NEC unveils NP110 and NP215 projectors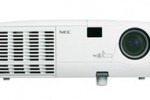 We can thank the CEDIA expo for all the new home theater projectors and other gear that have been announced this week. NEC has unveiled a pair of new projectors for users on a budget that want home theater capability along with multimedia functionality. The projectors include the NP110 and the NP215.
Both projectors are low cost with the NP110 selling for $459 and the NP215 selling for $599 when they launch in October. Features include internal 70-watt speakers, closed captioning, and ECO mode technology. The ECO mode tech can extend the lamp life up to 5000 hours.
The NP110 has a native resolution of 800 x 600 and the NP215 has 1024 x 768 resolution. Contrast ratio is up to 2000:1 for the devices with up to 2500 lumens of brightness. Inputs include VGA, composite video, S-Video, and component video with an adapter. The NP215 also has an Ethernet jack for connecting to a network.