NEC Unveils LifeTouch L For Individuals And For Business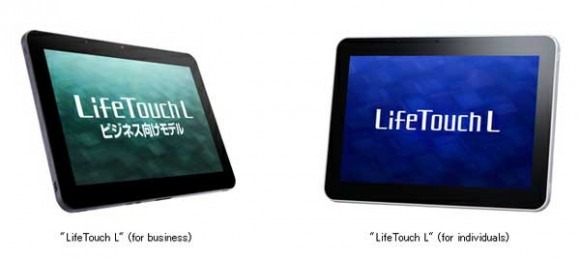 NEC has unveiled a pair of new Android tablets both carrying the LifeTouch L name. One of the tablets is aimed at individuals with other aimed at business users. There are two versions of the tablet for individuals with one packing 32 GB of storage and the other featuring 16 GB of storage. The tablets for individuals will release on July 5.
The tablet for business users offers 16 GB of integrated storage and has security features as well with shipment set for late July. The tablets share many of the same features, including a 540 g weight and a thickness of 7.99 mm. Both tablets run the Android 4.0 operating system and use a dual core 1.5 GHz OMAP4460 processor.
The screen in the tablets is an IPS unit with wide viewing angles measuring 10.1-inches with a resolution of 1280 x 800. The tablets have a battery life of roughly 13 hours when surfing the web and about 10 hours when viewing video. Integrated Wi-Fi is included and the 5 GHz band is supported. The tablet aimed at individuals is designed to make it easy to find applications and includes a security application for children to keep them safe online along with all the other features you expect from a tablet today. The tablet for business users has security features to prevent theft and loss and to provide secure access to corporate networks. Pricing for the tablets is unknown.