NEC rolls out two more MultiSync 24-inch EA241WM and 19-inch EA191M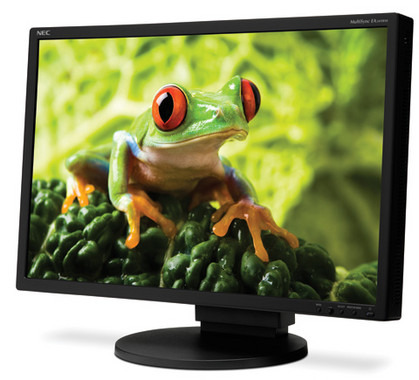 Following the launch of the 26-inch EA261WM and 22-inch EA221WM, NEC Display Solution rolls out two more EA series MultiSync with smaller screen sizes- TN panel 24-inch EA241WM and PVA panel 19-inch EA191M. Unlike their UXi series for professional, the EA is best for business and enterprise class users.
The larger EA241WM is a widescreen WXUGA monitor with resolution of 1920x1200, it sports a HDCP compliant DVI-D input with HD-video capable of 1080P and 720P. NEC packs the premium enterprise display with 1000:1 contrast and 400 cd/m2 of brightness, the only disadvantage is having a low end panel with pathetic 160 viewing angle.
Another and probably the smallest EA series MultiSync is the 19-inch EA191M. It has a standard size monitor but features a better PVA panel LCD with native resolution of 1280x1024. The specification of 250 cd/m2 is not as bright as its big brother but can deliver deeper contrast at 1500:1 and wider viewing angle of 176 degree.
Both units feature an ergonomic 4-way adjustable stand with ability to adjust height, tilt, swivel and pivot. Available this month with an estimated street price of $549 (24-inch) and $379 ($19-inch), and come with three-year parts, labor and backlight warranty.
The MultiSync EA241WM and EA191M displays include the following features:

4-way adjustable stand (110mm height, tilt, swivel, pivot)
New cabinet design with intuitive, multi-directional NaViKey™
Integrated 4-port USB 2.0 hub (except EA191M)
Space-saving, down-firing speakers with headphone jack
Dynamic Video Mode with 5 presets for real-time optimization of image quality
Built-in carrying handle (except EA191M)
HDMI-capable via adapter, 720p and 1080p from DVI-D (except EA191M)
High Bandwidth Digital Content Protection (HDCP), which is supported through the DVI-D connector for use with HDCP-equipped devices and encrypted content
ECO Mode for significant power consumption savings
Ambix®, NaViSet™ and No Touch Auto Adjust™