NEC New MultiSync MD Series Monitors Are For Medical Professionals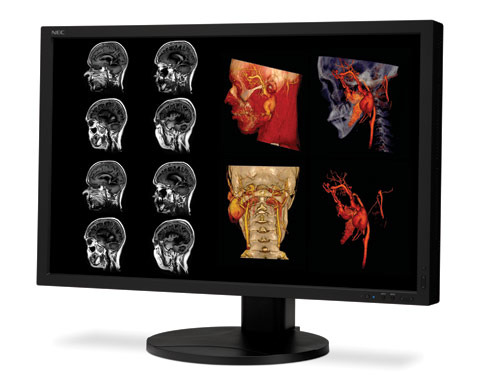 When I inquired a NEC professional series MultiSync from a local vendor, he asked if I would be using it for medical application (I wish); apparently, according to him, most of medical clientele are using NEC MultiSync monitors for critical medical imaging applications. Make no mistake, a wrong shade of color could be a life and death matter in medical practice. The NEC Display Solutions of American has introduced a new line of MultiSync MD Series high-brightness, color and grayscale flat-panel monitors for such critical professions.
Designed for medical imaging applications, including radiology and Picture Archiving and Communication System (PACS); the trio of MultiSync MD Series join the previously announced MD304MC, a 30-inch 4-megapixel color display with backlight sensor technology. The new offerings includes a 21-inch, 2-megapixel MD212MC and the 21-inch, 3-megapixel MD213MC color displays – both with front sensors; and the 21-inch, 3-megapixel MD213MG grayscale display with front sensor.
The new displays also feature DICOM calibration and the X-Light pro sensor system to maintains a consistent light output; 12-bit LUT for most accurate calibration at hardware level; and ColorCom to reduce LCD uniformity errors and compensates for differences in color/grayscale and luminance level.
The MD212MC and MD213MC displays will be available for December shipment with estimated street prices of $3,899 and $4,999, respectively. The MD213MG display will be available in January with an estimated street price of $4,699. The MD304MC display is available now for shipment with an estimated street price of $3,999. As usual, the professional MultiSync comes equipped with a five-year limited warranty and overnight exchange service.