NEC NC900C Digital Cinema Projector for small theaters is $30,000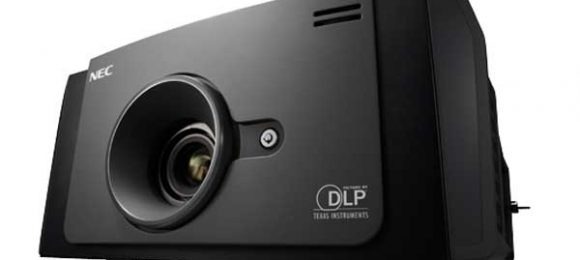 NEC has announced a new digital projector aimed at movie theaters with small screens called the NC900C. This digital cinema projector uses Texas Instruments DLP technology. The projector offers 2K DCI-compliant cinema quality meaning it has a brightness rating of 14-foot lumens for screens up to 30 feet wide.
NEC says that the projector uses the new Texas Instruments S2K chip making it the most compact 2K DCI-certified digital cinema projector on the market. It also two terabytes of RAID5 storage via a storage server and has an integrated Media Block. The projector uses a three-chip DMD reflection method.
The native resolution of the projector is 2048 x 1080, and it uses dual 350 W lamp bulbs. The projector also has multiple bayonet lens options allowing for easy installation and motorized zoom, focus, and shift capabilities. The projector is 3-D compatible and can be mounted on the floor or the ceiling with no exhaust system required.
The projector has dual HDSDI 3G interfaces and has advanced networking features. The director is cooled by air and has a dust-preventing electrostatic filter. The projector weighs 97 pounds and is expected to be available in December for $29,999 including the projector, lens, and IMS system.