NEC Eye Favor is High Tech Marketing tool with Face Recognition apps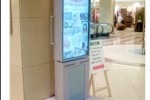 While not pursuing criminals and thefts, Face Recognition apps has its niche use in advertising. NEC's new digital signage system presented Eye Flavor, a masterful 46-inch LCD that can read viewers expression, analyze and display the most effective content then store all measurements for marketing use.
The marketing's best friend combines face recognition digital camera, content delivery controller and software apps to manage the ad content and judge its effectiveness. By analyzing the viewer's digital image, the Eye Flavor can effectively determine the viewers' gender, age and how they react to the ad content.
According to Nikkie, the NEC has already put their new tool to work at a commercial facility in Tokyo. The system was set up at the front entrance to measure customer reaction to the ad content, viewers' time frame, gender, age group and the distance in between them.