NBA 2K12 video game updates Jeremy Lin ratings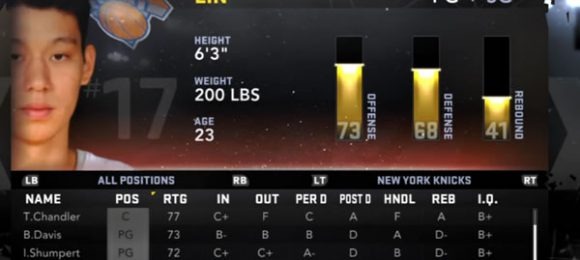 Even if you, like me, have no interest in professional basketball, chances are you've heard of New York Knicks player Jeremy Lin. The Harvard graduate-turned pro baller has swept the nation with his zero-to-hero story and his masterful skill at the sport. The problem is that no one really even gave him a second look before, including the people at 2K Sports, which prides itself on providing the most sophisticated sports simulation video games.
Lin was given a mediocre rating in the latest edition of NBA 2K12, meaning he just kind of blended in with everyone else in the game. The publisher, however, has released an update that brings his score up and makes him a more formidable force on the virtual court. Being recognized in such a way that the background coding is changed in a video game is one of the most flattering things that can happen to a professional athlete.
The update doesn't exactly give Lin star power or even bring him to the top of the Knicks roster, but that's mainly because he isn't a time-tested player like some of the more legendary and legacy athletes. He is hot right now, but the question many have on their mind is if he can keep it up and build an amazing career out of it. Or will he fizzle out and be looked at in the future as a sort of one-hit wonder, where he was famous for just a short while? Either way, 2K Sports appreciates how he has shaken up the entire basketball market right now, and that speaks volumes.
[via Gamezone]