Navigon 7200T GPS Review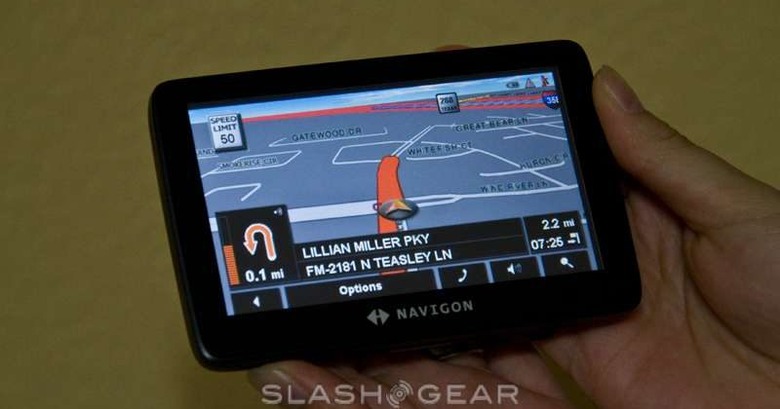 With prices of basic standalone PNDs (Personal Navigation Devices) racing to the bottom, and increasing threats from navigation apps on mobile devices, what's a company to do when they want to make a premium GPS device? If you're Navigon, and the PND is the 7200T, you stuff it full of real-time updates, 3D visualizations and incredibly detailed mapping, together with a vast touchscreen and slick design. Does the Navigon 7200T stand out or get lost in the crowd? SlashGear decided to find out.
The feature list is long, in fact the only significant thing missing from the 7200T is a mobile data connection for updates. What you do get is "Reality View Pro", for on-screen lane and sign information, "Landmark View 3D", for 3D city-scape, voice recognition destination entry, Bluetooth and a lifetime subscription to Clear Channel Total Traffic updates. All that on a 4.3-inch wide-aspect touchscreen.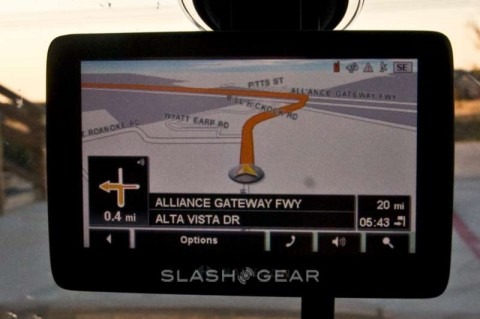 Build quality is good, with a sleek but sturdy casing. The 7200T fits snugly into its windscreen mount but pops out readily; the edge-to-edge glass on the front is another neat touch. Under the hood there's a new 600MHz Centrality Titan I processor with 64MB of RAM, and we experienced no slow-down or delays in rendering.
Voice entry is probably the biggest crowd pleaser here. It requires minimal training – reading out loud a single sentence – and after that is triggered by a press of the Voice Entry button. You're asked to speak the city, the street and the house number in turn, each punctuated by a beep. Accuracy has proved fair, thought the 7200T is quite location specific (move it in the car and you may have to run the training again), and it apparently learns the more you use it.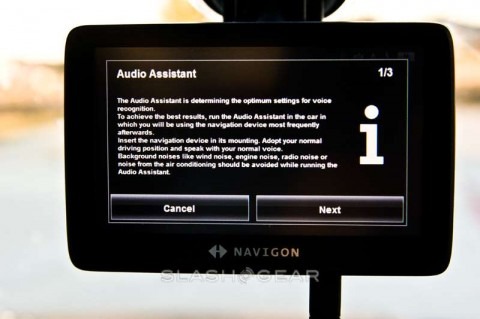 Navigon have certainly used the 4.3-inch display to its best advantage. The 3D mapping is vivid, assuming you're in an area with a suitably rendered landmark, but its of limited use unless you really are wondering if that's the White House on your left. More helpful is the Reality View Pro, along with Lane Assistant Pro, which automatically zooms into intersections and lanes with true-to-life representations of where you should be positioned in the road. The 7200T also shows road signs and actual road geometry; seriously, the only thing more accurate would be if it took into account the time of year and added seasonal flowers.
The rest of the interface is perhaps a little more staid than the rivals from Garmin and TomTom. In fact, Navigon's PND seems to take everything much more seriously, which isn't really a bad thing. The SIRF InstantFixII receiver took a little longer than the "matter of seconds" Navigon suggest, but it was still some of the fastest acquisitions we've experienced. The text-to-speech road names were also surprisingly accurate, with some of the stranger names still being correctly pronounced.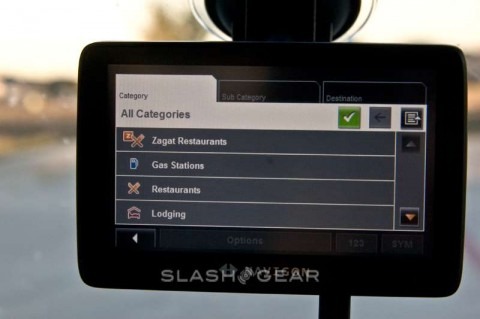 As well as an unspecified huge amount of Points of Interest (POIs), the 7200T has Zagat ratings and reviews for restaurants, brand icons overlaid onto the maps, and one-click access to DirectHelp which, like on rival systems, shows the nearest hospitals and rescue services together with their contact details. Since browsing through all those POIs while driving is a sure-fire way to require one of those rescue services, the 7200T has six shortcuts – food, gas, lodging, rest areas, auto service and shopping – which, when selected, automatically directs you to the nearest exit.
Like many PNDs, the Navigon 7200T also works as a Bluetooth hands-free. We paired several different devices and had no trouble connecting any of them; the PND also downloads the contacts lists for on-screen dialing. Sound quality was fair, though on the quiet site, and callers reported no great issue with background noise.
Less successful are the traffic updates. The 7200T uses the Clear Channel system, and has a generous lifetime subscription. Problems are quick to update and clearly shown on the map; however, there seems to be a disconnect between that and the direction generation itself. Despite telling us of slow-downs and roadworks ahead, the Navigon still instructed us to keep going rather than offering an alternative route. That's hopefully something the company can fix with a firmware update, and there's a mini-USB port to connect the 7200T to a computer and do just that.
Overall, we like the 7200T. While the traffic updates are occasionally frustrating, and the voice recognition not quite 100-percent accurate, it does the essentials – fast navigation with instructive graphics – very well. It's not a cheap option, at around $449, but if you're looking for foolproof directions then it's definitely one to consider.