Natural sunlight for any room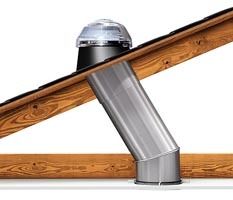 I practically live in my basement. No, not my parent's basment, the basement in my house. Some days I spend so much time down there that I barely see the sun at all. With a Solatube, one day I may be able to see sunlight every day.
The idea behind the Solatube is to provide natural sunlight to almost any room. You have a dome that sits on your roof with a highly reflective tube going down to the room of your choosing. As long as there is light outside, you can have natural light inside.
Some people will want this because the natural light is better on your eyes. Others will like the money it saves because you don't need to keep all of your lights on all day. I probably won't be getting one of these, I like my dark basement just the way it is.
Solatube [via coolhunting]