NashMoney's custom Sneakerspeakers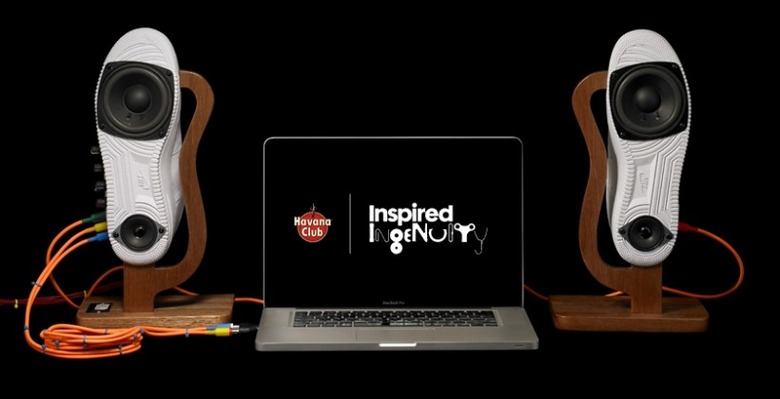 London artist, Alex Nash, has a lifelong fixation with athletic footwear. In a nod to his life-long obsession he created this custom set of desktop speakers as part of Intercity's Inspired Ingenuity project. This project is meant to showcase pieces of artwork that show inspired ingenuity by taking normal objects and turning them into something completely different. Nash took a pair of Nike Air Force 1 sneakers and constructed them into a pair of amplified speakers. The project is challenging artists to create pieces that take the everyday and turn it into something other. One winner will be chosen every month through June.
Nash started with the sneakers. He then cut through the sole of each in a number of places, leaving space for speakers, and the wires. This took a lot of meticulous measurement so that the speakers, boards, and wires would all fit perfectly into the finished product. He also built, sanded, and varnished the stands himself. He says about the process, "I've always had to tackle problems and learn new skills or techniques with most of my customs/designs, but I never thought electronics and carpentry would be one of them." This is some beautiful work from the man known as Nashmoney.
[via Art and Sole]