NASD Technology NS-2010 Mercedes themed PMP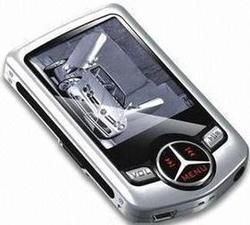 It has a 2" screen that can display up to 262k colors. You can play MPEG-4 and AVI video files on it too.
MP3 and WMA are the compatible audio formats. It also has an FM radio tuner built in and an SD card slot for storage.
You can record digital audio, read e-books, and view pictures on this device as well. It also has a rechargeable battery, no word on price though.
New NS-2010 in Mercedes Benz-themed PMP [via gizmowatch]