NASA's Mars Rover game puts players on the Red Planet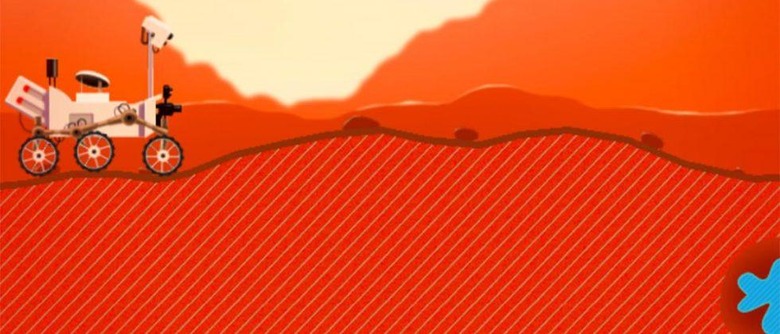 As of today, NASA's Curiosity rover has been rolling around Mars for four years. To coincide with that, NASA has released a new side-scrolling game called Mars Rover for iOS, Android, and desktop that takes players to the Red Planet...a version of it, anyway. The game tasks players with operating the rover as it finds and identifies substances like water — if you're not careful, the rover may get a flat tire, get stuck in a crater, or tip over backwards.
If you haven't been keeping up to date on Curiosity's various activities, check out the video NASA shared on Twitter today — it goes through a quick run down of the rover's activities and the team behind it, including the instruments on it and some of the wear and tear the rover has suffered over the years. There's also a lot of footage from Mars, which never stops being fascinating.
It's been 4 yrs since @MarsCuriosity landed on the Red Planet. Check out the discoveries so far and what's to come:https://t.co/6aRRwNycIJ

— NASA (@NASA) August 5, 2016
NASA goes on to explain that while its game gives people a fun idea of what the Mars Rover does, it isn't quite an accurate reflection of reality. While the game's rover can run at fast speeds, the real-life rover tops out at about 2-inches per second, which equals about half an hour to cover the length of a football field. As well, and quite obviously, the rover on Mars doesn't operate in real-time, as it takes a while for commands to reach the machine.
The game is available on mobile devices by downloading the Gamee app, but if you don't want to jump through those hoops, you can just play a desktop version of it here.