NASA video shows Hurricane Dorian from the International Space Station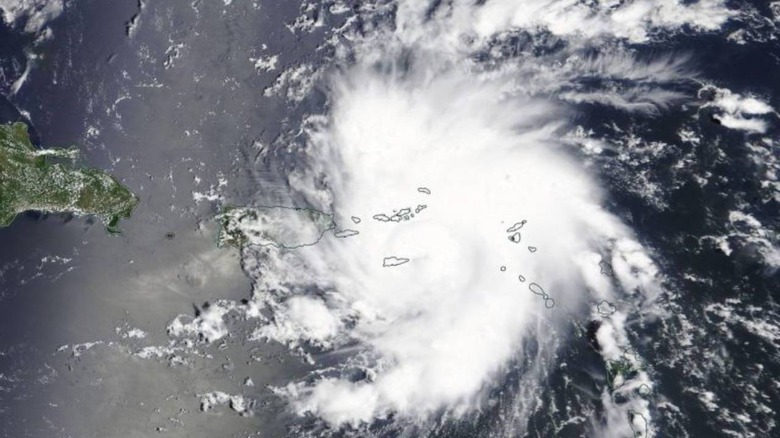 NASA has shared a video showing Hurricane Dorian as seen from the International Space Station. The storm was captured as it 'churned over the Atlantic Ocean,' according to the space agency, which caught views of the hurricane during the early afternoon on August 29. In addition to sharing the video on YouTube, NASA is also making the footage available for the public to download.
The hurricane was captured by a camera that is mounted outside of the International Space Station, according to NASA. An official explains in the video that the ISS was passing over Cuba when the views were captured, giving the public an unprecedented look at the massive storm.
NASA has a number of satellites that monitor conditions on Earth. Using them, the space agency has issued a number of updates about Hurricane Dorian on its Hurricanes Blog, where scientists said today that the storm is 'packing heavy rain.'
Based on the data it was able to gather using its instruments, the space agency estimated that impacted regions would see nearly 5-inches of rainfall in the 24-hour period from early Tuesday to early Wednesday. Looking forward, officials say that areas hit by Hurricane Dorian can expect rainfall into early next week with rates ranging from 2- up to isolated instances of 12-inches. As a result of the heavy rain, some areas may experience deadly flash floods.
Hurricane Dorian's max sustained wind speeds are reaching near a massive 85mph with the potential for stronger wind gusts. Experts anticipate that the storm to become a 'major hurricane' by tomorrow, August 30, potentially hitting southern Florida as a Category 4 hurricane. NASA's Hurricane Dorian blog can be found here.