NASA shows off Pluto's stunning Whale of a Feature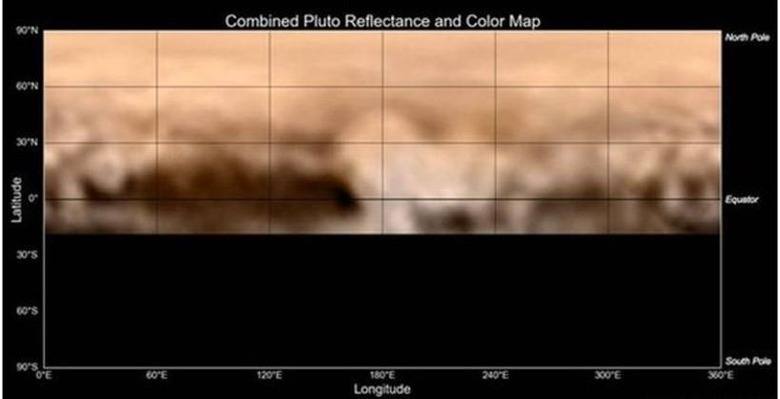 NASA's New Horizons probe is currently studying Pluto and scientists on the project have released a flat projection of visible parts of the sphere of Pluto that shows off a very interesting feature of the dwarf planet. Images so far have shows light and dark patches at the equator of Pluto including a long, dark band that has been dubbed "the whale."
The closer New Horizons gets to Pluto, the better the images of the surface of the dwarf planet get. The probe is about a week away from its historic flyby of Pluto and will pass less than 13,000km over the surface of the dwarf planet. During that flyby, the probe will take a bunch of images and gather all kinds of data on Pluto that scientists can use to learn more about the former planet.
When New Horizons gets that close to Pluto, the images it take will be crisp and sharp, not the fuzzy looking images you see here. The images of Pluto will show the surface of the dwarf planet at a resolution better than 100m per pixel.
The images used to create the view of the whale you see here was taken between June 27 and July 3. The image is actually a combination of images from the probe's high-resolution black and white camera called Lorri and the lower resolution color imager called Ralph.
Engineers believe they know what caused the glitch in the spacecraft that caused it to stop communicating with Earth and say that the glitch will not cause problems when the historic flyby is underway.
SOURCE: BBC