NASA shares load of space GIFs with Giphy and Pinterest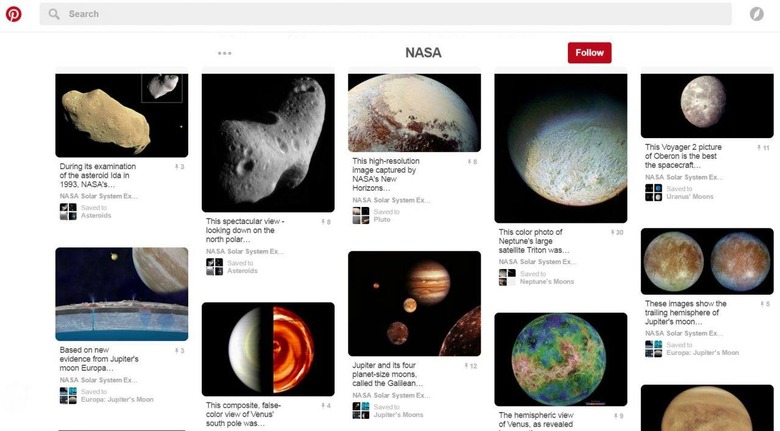 Thanks to NASA, both Giphy and Pinterest are now both home to a big roster of space-related GIFs and images, giving the public yet another way to view and share the space agency's wares. NASA announced new accounts on both services today, encouraging the public to follow both for access to the variety of GIFs and photos. The Giphy account in particular greatly expands the number of GIFs available through apps that include Giphy integration, possibly making your future Facebook chats a little more out of this world.
Giphy is home to all manner of GIFs, and you can access that library directly within several other apps, including Facebook Messenger. Because Giphy now has a NASA account (set up under the name "nasa," as expected), you'll be able to find and share those space-related GIFs with others using search.
Quite different but no less popular is Pinterest, where NASA has shared a bunch of images in pins for others to browse, re-pin, and save. NASA says both the accounts share content that span a wide range of topics and content, including spaceflight involving humans, astrophysics, aeronautics, and Earth Science, among other things.
NASA's no stranger to sharing its content online. The space agency posts high-resolution images and animations on its website all the time, not to mention the content posted on its social networks. Because this content is usually public domain, you can save the images, print them on things, and work them into your own art and visual projects. You can find the Pinterest account here and the Giphy account here.
SOURCE: NASA