NASA Mars 2020 rover's arm performs 88lbs 'bicep curl' on video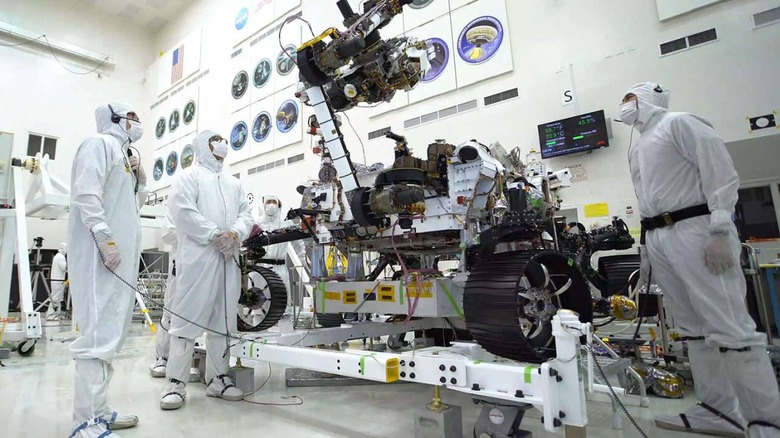 NASA has shared a new video of its Mars 2020 rover, one showing off the machine's large arm and its ability to lift heavy payloads. According to the space agency, which shared the video on Friday, the robotic arm was able to lift, curl, and otherwise maneuver a sensor-filled turret that weighed 88lbs. The movement was made possible by five electrical motors working with five mechanical joints.
According to NASA's Jet Propulsion Laboratory, Mars 2020 performed the arm movement on July 19 at the Spacecraft Assembly Facility where the rover is being built. NASA captured the maneuver in a series of images shared as a time-lapse video on Friday, July 26.
The Mars 2020 rover's 'arm' measures 7ft in length and features several joints, including 'wrist,' 'elbow,' and 'shoulder' joints. The turret lifted by the arm in the video features a variety of sensors, according to NASA, as well as multiple high-definition cameras, a percussive drill, and a coring mechanism.
As with the existing Curiosity rover operating on the Red Planet, the Mars 2020 rover will roll around Mars' dusty environment and use its various instruments to study the planet. The arm and turret will enable Mars 2020 to collect rock and soil samples for study in the rover's Sample Caching System.
Mars 2020 integration engineer Dave Levine explained:
This was our first opportunity to watch the arm and turret move in concert with each other, making sure that everything worked as advertised – nothing blocking or otherwise hindering smooth operation of the system. Standing there, watching the arm and turret go through their motions, you can't help but marvel that the rover will be in space in less than a year from now and performing these exact movements on Mars in less than two.
Assuming everything goes according to schedule, NASA will launch this rover from Cape Canaveral Air Force Station in July 2020 with an anticipated Mars arrival date of February 2021.