NASA Juno spacecraft adjusts course for July 4 Jupiter arrival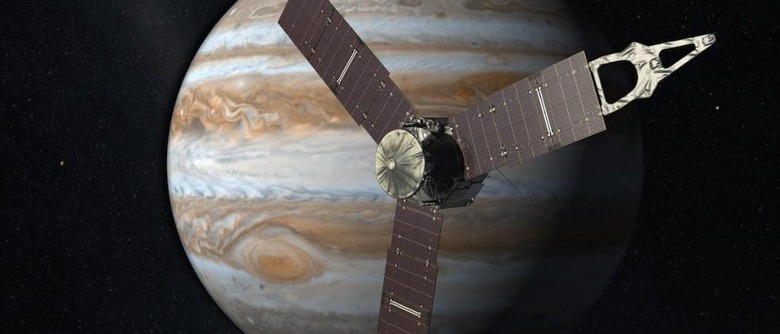 NASA has announced that adjustments had been made this week to the course of its Juno spacecraft, which is on its way to the planet Jupiter. On Wednesday, the space agency carried out an "engine burn," firing the spacecraft's thrusters to put it on track to arrive at the solar system's largest planet on July 4th of this year. The solar-powered Juno is now roughly 425 million miles from Earth, and only 51 million miles from its destination.
Scott Bolton, the principal investigator for Juno, said in a statement that this week's event was the "first of two trajectory adjustments that fine tune Juno's orbit around the sun, perfecting our rendezvous with Jupiter on July 4th at 8:18 p.m. PDT."
Wednesday's engine burn used up 1.3 pounds (0.6 kilograms) of Juno's fuel, and in turn altered its speed by roughly 0.7 mph (1.1 km/h). NASA says that the spacecraft's next engine burn is scheduled to take place on May 31st.
First launched in August 2011, the $1.1 billion Juno mission will see the spacecraft conduct scientific studies of Jupiter, focusing on the planet's gravitational and magnetic fields, hopefully providing scientists with a better understanding of its structure and formation. Juno will orbit the planet 33 times, with a closest flyby of just 3,100 miles (5,000 km) from the Jovian cloud tops.
SOURCE NASA