NASA Gives Better Look At Ceres' Surface With Colorful Map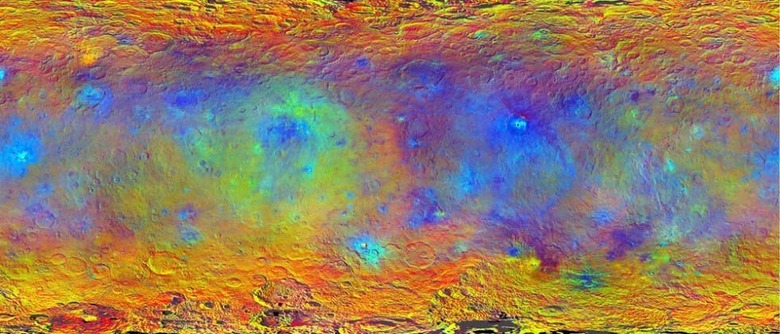 Ceres, a dwarf planet, has proven quite the mystery for NASA, and it has been working steadily for several months to unravel those mysteries. To help it better understand the composition of the planet's surface, the space agency used several images to create a map of the surface using bright, highly saturated colors. This map, particularly the use of the colors, highlights elements of the surface that otherwise wouldn't be apparent.
NASA published the image on Wednesday; it is the result of multiple images snapped by the Dawn spacecraft from August to September. The images were snapped in 440 nanometers/blue, 750 nanometers/ red, and 920 nanometers/infrared.
Areas in the image that are green have had the brightness "strongly enhanced," says NASA, while the blue colors show enhanced reflectivity for short wavelengths. The red colors, meanwhile, are for parts of the planet's surface that have strong infrared light reflections, something that wouldn't be visible to the naked eye.
Says the space agency, this map was created so that researchers could "highlight subtle color differences" on planet. In natural color, the variations are more or less uniform. Though it isn't going to reveal anything mind-blowing, it does help revealed surface ages and surface mineral composition.
Earlier this week, it was revealed that NASA is seeking the public's help in figuring out how the shiny, strange mountain Ceres, dubbed these Lonely Mountain, was formed. One theory has it that the mountain is a structure of ice, while some researchers think it may be coated in or composed of salt. Check out the timeline below for more recent Ceres news!
SOURCE: NASA