myTouch 4G Review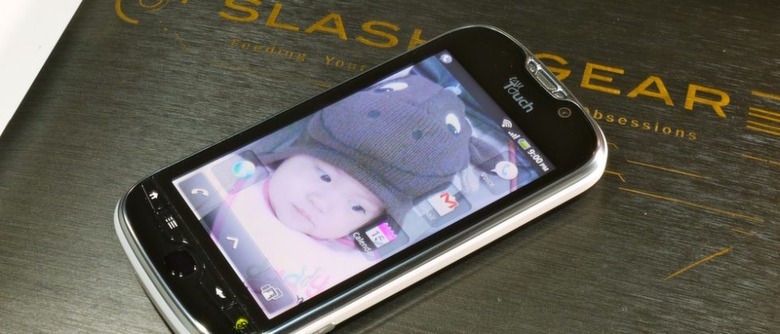 T-Mobile took on Sprint's HTC EVO 4G in recent months with a 4G phone of their own, the QWERTY-toting G2, and taking advantage of the carrier's spreading HSPA+ network. Now comes the second part of that attack, the T-Mobile myTouch 4G, a full touchscreen candybar with a 1GHz CPU and twin cameras for photography and video calls. Check out the full SlashGear review after the cut.
Hardware
It's certainly a solid device, a little on the heavy side at 5oz but with a nicely curved 4.8 x 2.44 x 0.43 inch chassis that sits well in the hand. Thanks to the 3.8-inch TFT-LCD it's a smaller phone than the Samsung Vibrant (which has a 4-inch Super AMOLED panel), and while the Samsung's screen is more color saturated, the myTouch 4G is still crisp and very usable. The front panel is glass, slightly curved toward the top edge, with a row of physical buttons for home, menu, back and T-Mobile's own "Genius" key, with an optical trackpad underneath.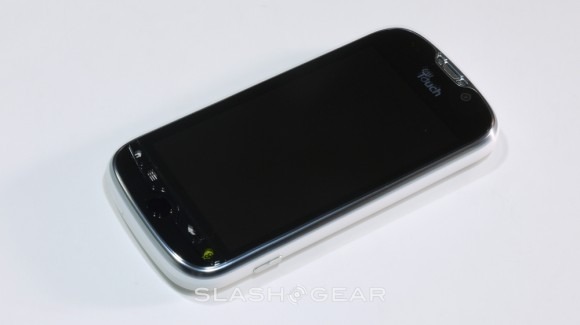 On the left edge there's a volume rocker and microUSB charge/sync port, together with three gold pins for a portrait-orientation charging dock; on the right there's a camera shortcut key. A power/lock button and 3.5mm headphone socket is both on the top edge. The myTouch 4G has two cameras, a 5-megapixel unit on the back (complete with an LED flash) and, still rare on Android devices, a lower-resolution video camera on the front by the earpiece, intended for video calls. All in all it's a sturdy, premium-feeling handset with a nice mixture of glass, quality plastics and metal.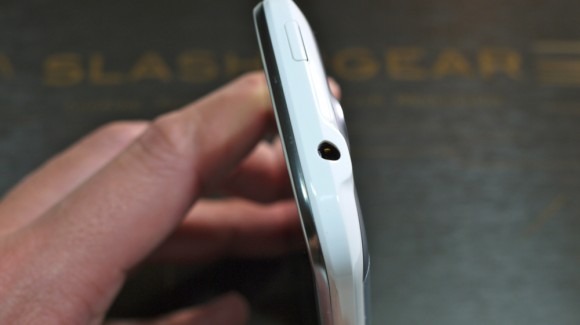 Inside is the second-gen 1GHz Snapdragon MSM8255 processor that HTC used in the Desire HD, along with a healthy 768MB of RAM. There's around 1.2GB available for apps, along with an 8GB microSD card pre-installed by T-Mobile. Aside from the HSPA+, the myTouch 4G has quadband GSM/EDGE, dualband (1700/2100) WCDMA, WiFi b/g/n, Bluetooth 2.1+EDR, A-GPS, and an FM radio.
Software
As with other recent HTC Android devices, the myTouch 4G runs 2.2 Froyo, the latest public version of Google's smartphone OS. On top, there's a custom UI that has its roots in HTC Sense but is modified by T-Mobile. Many of the tweaks we appreciated on the Desire HD make an appearance here, too, including the list of eight most recent apps in the notification bar, the FriendStream social network widget (together with Facebook integration into contacts), various clocks and custom Mail app. However T-Mobile also throw in a MyFaves widget for your favorite contacts, Visual Voicemail and MyModes.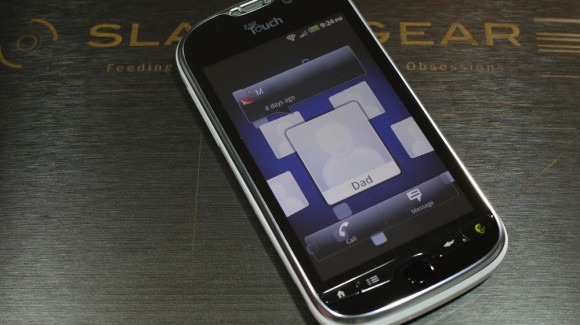 MyModes is somewhat like Sense's scenes – different layouts according to whether you set the myTouch 4G into "work" mode, "home" mode or something else – but adds in app access control. So, in T-Mobile's KidZone mode, your children can play games but not have access to the messaging or phone apps.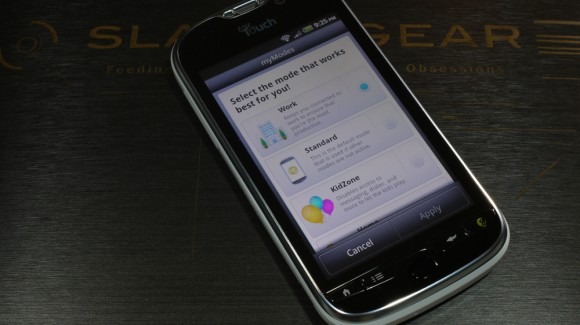 The Swype keyboard is installed, together with HTC's own custom 'board, but voice control is also a realistic option. T-Mobile has used Nuance's Dragon Dictation voice-recognition technology with their "Genius" button, which allows you to trigger calls or web searches, or dictate SMS or email messages. It's quicker than Google's system, and according to T-Mobile will learn from your commands over time and refine its accuracy. Altogether it works reasonably well, though we still found ourselves reaching for the on-screen keyboard most of the time.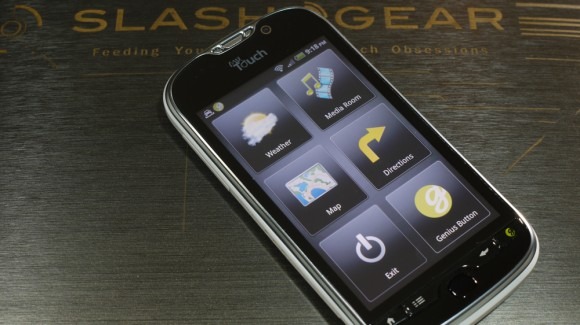 Messaging on the myTouch 4G is particularly flexible. HTC's custom SMS/MMS and Mail apps are straightforward to use, and there's support for POP, IMAP and multiple Exchange and Gmail accounts at any one time. The slightly larger screen size makes for more comfortable typing, especially in landscape orientation. HTC's Car Dock app is also present, offering a PND-style interface for Google Maps Navigation with its free turn-by-turn directions.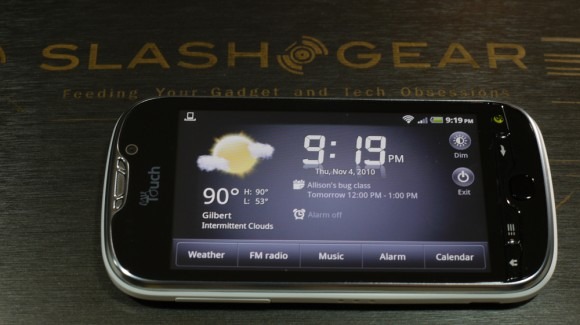 Performance in general was very strong, with the second-gen Snapdragon putting in a very good showing. We ran Android benchmarking tool Quadrant, and the smartphone scored 1,846, a couple hundred points higher than the similarly specified Desire HD. This shows its worth in the browser, which – thanks to Froyo – supports Flash Player 10.1 for streaming video, games and animations. As we've seen on other touchscreen devices, a lot depends on the UI and controls of each Flash object, and how much their designers focused on keyboard and mouse input, but generally the content itself played reasonably smoothly.
4G & Tethering
There are plenty of arguments over whether HSPA+ can be considered "true" 4G, but in the end it's a significantly faster experience than regular HSDPA. It also has the benefit of being more readily integrated into existing UMTS architecture. T-Mobile's network is theoretically capable of 14.4 Mbps downlinks with the myTouch 4G, though you'll never actually see that sort of performance. However, we ran SpeedTest on the handset and were impressed to see 8.09 Mbps download rates and 0.64 Mbps uploads.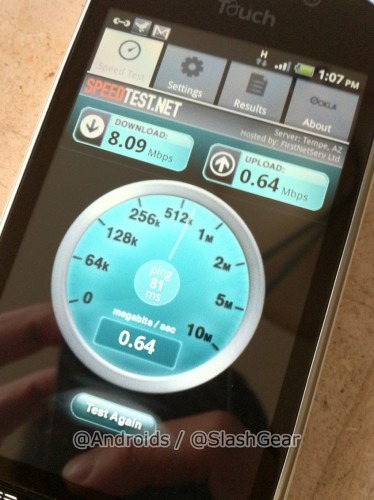 That's great, as long as you're in an area that has HSPA+ coverage, but otherwise you'll be settling for 3G or even 2G data, depending on T-Mobile's network. As ever, the carrier's coverage maps should given an idea of what you can expect, but we did find the real-world experience of 4G (and, for that matter, 3G) does vary somewhat from the colors on T-Mobile's charts.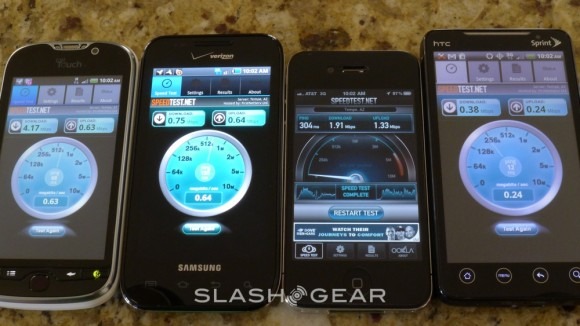 With the myTouch 4G, T-Mobile are finally offering an official tethering option, though you'll need to stump up an additional $14.99 per month on top of the $30 unlimited data package. Using Froyo's WiFi hotspot functionality, you can share the 3G/4G data connection with up to five wireless devices such as your iPad, netbook or notebook.
Camera
At 5-megapixels, the myTouch 4G's camera isn't the highest resolution we've seen on an Android device, but it's still capable of producing reasonable stills and video. Colors are decent, as is general detail, and though the autofocus is a little more sluggish than on rival phones, it's pretty accurate when it finally locks. 720p HD video recording is also supported, at 29fps, and as long as you have good lighting the results are smooth and clear, if somewhat muted.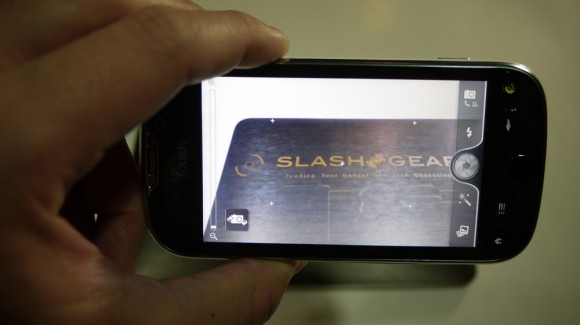 On the front of the myTouch 4G is a second camera, capable of taking VGA resolution stills but really intended for video calls. T-Mobile has partnered with Qik to put a copy of the company's video chat software on the handset, which will eventually allow for two-way calls between the myTouch 4G, other Android phones with front-facing cameras (such as the EVO 4G) and the Samsung Galaxy Tab, over WiFi and 3G. Unfortunately, Qik's app isn't quite ready yet – even with the company's updated version of QIK for myTouch 4g video chat we were getting a success rate of 1 out of every 5 attempts. That proved glitchy and of poor quality, so Qik has plenty of work to do.
Multimedia
We've generally been looking to Samsung for the broadest multimedia support on Android devices of late, but the myTouch 4G puts in a strong showing as well. T-Mobile pre-load the DoubleTwist app for content management – it offers to install to your PC or Mac when you first plug the phone in via the included USB to microUSB cable – while the media player on the myTouch 4G itself can handle WMC, H.264, DivX and Xvid video and MP3, WMA, OGG, AAC and WAV audio, among others. There's also the FM radio, a Slacker streaming radio app and of course the usual YouTube client.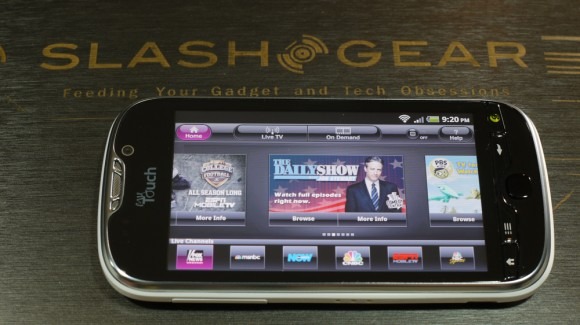 Video clips up to 720p resolution are supported, and the 1GHz processor shows its worth again, with playback being smooth and jag-free. Unfortunately, HTC has missed an opportunity and not given the myTouch 4G an HDMI port. T-Mobile will sell you a $14.99 component video adapter, but we'd rather have had HDMI.
If you're willing to sign up to premium media services, T-Mobile is offering T-Mobile TV, a $9.99 per month mixture of ABC, Fox and Disney streaming content, along with on-demand episodes of some big-name shows. A 30-day trial is bundled with the myTouch 4G, subsequently being billed to your carrier account.
Phone & Battery
Too often voice call performance is overlooked in smartphones, but happily the myTouch 4G doesn't fall short. Audio on both ends of the call was strong, though the microphone is prone to picking up a little more wind-noise than we'd like (something we also noticed on video recordings), while the speakerphone is loud without being unduly boomy.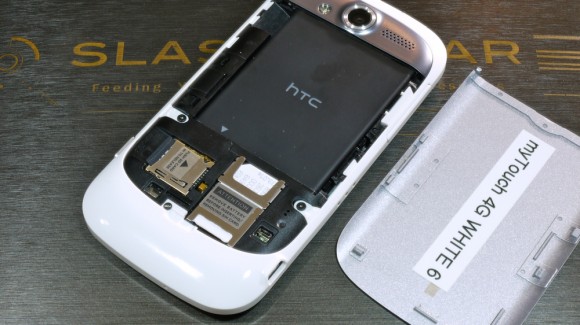 There's also WiFi calling, using T-Mobile's UMA support as freshly added to Android. It works, though it's not the best implementation we've seen of the technology; still, this is the carrier's first attempt on the Google platform, and we're hoping future software versions will tighten up the voice quality and overall stability. Meanwhile, you can always use Skype, Google Voice or any of the other VoIP clients available in the Android Market.
Battery life proved impressive, with the myTouch 4G managing 12 to 15 hours use with push-email turned on. That's with no mobile hotspot use, mind; turning 3G sharing on, even for relatively short periods, generally knocked a few hours off the overall runtime.
myTouch 4G hands-on
[vms 521b28495f2886ca0977]
Wrap-Up
It's hard to argue with the T-Mobile myTouch 4G; this is definitely one of the best Android devices on the market today. At 3.8-inches it's a sensible compromise over MID-scale superphones, and it certainly has the speed to keep up with what Froyo throws at it. We wish there was a replacement battery cover on offer – it's a sheet of metal and adds noticeably to the overall weight of the phone – though if you thought the Samsung Vibrant felt too lightweight then this extra heft might appeal.
We'll need to wait until the updated app to see if Qik video calls really are a killer feature for the myTouch 4G, but the smartphone's HSPA+ connectivity is – if you're in an area with T-Mobile 4G service – a significant improvement over regular 3G and our roughly 8Mbps downlinks were generally stable. If you simply have to have a physical keyboard then the T-Mobile G2 offers both QWERTY and HSPA+ with the inevitable bulk of a physical hinge mechanism. For most, though, we think the myTouch 4G could be the best Android handset in T-Mobile's range.