mydlink SharePort app turns router connected USB drives into cloud storage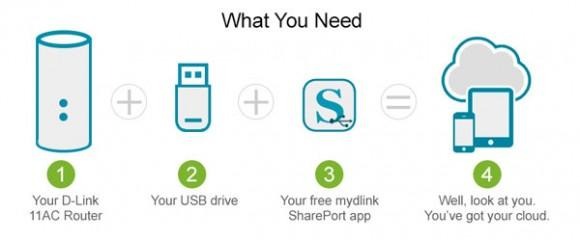 D-Link has been producing wireless routers and other networking hardware for a number of years. The company has announced a new app that enables consumers to create their own cloud storage network. The app is called the mydlink SharePort app and it's designed to work with compatible D-Link 11AC Wireless Routers.
When the application is paired with compatible router, it turns any USB storage device connected to the router's USB port into a cloud-based storage network. That cloud-based storage is accessible from anywhere in the world via the iPhone, iPad, or Android device.
All compatible 11AC wireless routers from D-Link feature a USB SharePort built-in and the routers are specifically designed for streaming video, music, photos, and more from the connected USB device to the iPad, iPhone, and Android devices. D-Link currently lists four compatible wireless routers.
The compatible routers include the Wireless AC1750 Router (DIR-868L), Wireless AC1200 Router (DIR-860L),Wireless AC1200 Router (DIR-850L), and Wireless AC1000 Router (DIR-820L). The routers allow users taking advantage of the application to access data on USB drives from anywhere they can get an Internet connection. The application is also designed to make it easy to browse data stored on USB drives offering file access by categories such as music, video, photos, and documents. The app is available on the App Store and Google Play.
SOURCE: D-Link