Mustek Heats Up Summer With Red Hot Deal On Personal Media Bundle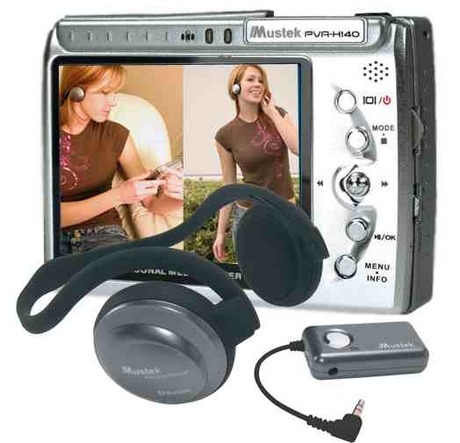 Mustek, a leader in consumer electronics for the digital lifestyle, today announced the availability of a new Personal Media Bundle Pack for $299, available only at www.mustekdirect.com.
Designed to liberate the most popular forms of entertainment – video, music and digital photography — from the living room to wherever the on-the-go consumer travels, the bundle combines Mustek's PVR-H140 personal media center with the MBT-SA120 Bluetooth stereo headset and audio dongle to add wireless freedom, excellent sound quality and comfort.
The groundbreaking PVR-H140 comes equipped with WMA support and a spacious 40GB of internal memory to hold up to 120 hours of full-motion video, 10,000 MP3 songs, and tens of thousands of digital photos. Its 3.6-inch TFT color screen delivers brilliant, high-resolution playback of movies in virtually every video format. In addition, the PVR-H140 has a unique software converter allowing television programs and movies to be recorded directly from a TV, VCR, DVD or cable/satellite signal to its hard-drive for playback – no PC required.
Sporting a lightweight, ergonomic behind-the-neck design, the Mustek MBT-SA120 is fully compatible with Bluetooth (V1.2) enabled cell phones and PDAs, as well as audio players, Windows® notebook PCs, stereo systems and game consoles with A2DP or AVRCP (Audio/Video Remote Control Profile) that stream high-quality audio over Bluetooth.
Comfortably engaging both ears, the stylish headphones have a built-in microphone, along with an integrated antenna, two-color LED status indicator, last call redial, voice calling, and a variety of one-push function keys for playing, pausing, pairing, stop and volume control to make it a breeze to receive, make and hang-up calls while listening to music.