Mushkin announces full line of SD and microSD memory cards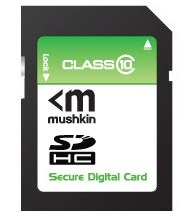 We talk about Mushkin quite a bit around these parts and generally it's about a new SSD or computer RAM when we do. Mushkin has now announced that it is offering a full mine of SD and microSD memory cards in several speed classes. This is the first time that Mushkin has offered storage media like this for cameras and other devices.
Mushkin offers all the way up to Class 10 SD cards with 8GB, 16GB, and 32GB capacity. The class 10 cards guarantee up to 10Mb/s data speed. Mushkin also offers Class 4 microSDHC cards in 4GB, 8GB, and 16GB as well as a class 2 microSD card in 2GB capacity. The class 10 cards are only offered in SDHC flavor with the 32GB selling for $57.94.
"We have very carefully prepared and tested our SDHC and microSD product offerings to ensure that they deliver the superior level of quality for which Mushkin products are known. Both amateur and professional photographers will value the data reliability and speed of our Class 10 SDHC cards, and those shooting video will appreciate the ability to save hours of high-definition video to them. Owners of the latest smartphones and tablets now have an elite option with our microSD products to upgrade storage capacity and get more from their mobile devices." – Wade Shiflett, director of marketing, Mushkin, Inc.