Mulliner re-creates the 1939 Bentley Corniche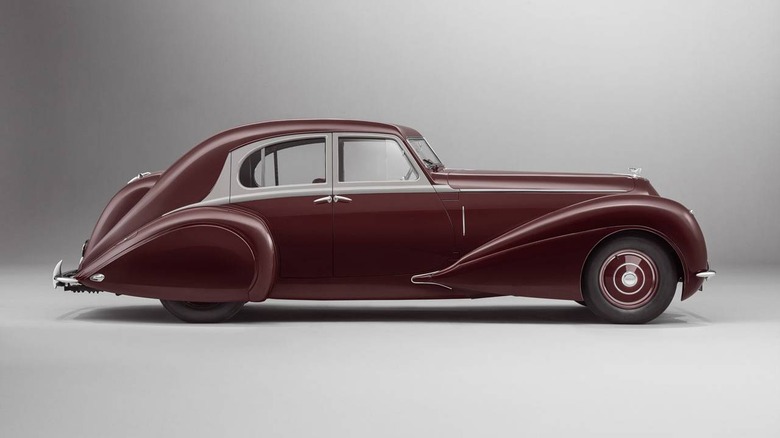 One of the cars that was pivotal for Bentley in its early days was the 1939 Bentley Corniche. The car was a departure from the traditional Bentley cars of the '20s and '30s and was the first to introduce streamlining in an attempt to reach faster speeds and improve the performance of the car. The styling of this historic car influenced the styling of all post-war Bentley models from the R Type Continental to the current Continental GT. 
The 1939 Bentley Corniche was introduced in 1939 and was meant to be a higher-performance version of the then-new MkV saloon set to launch in 1939. During its testing, the car was involved in a serious traffic accident in France in August of 1939. It was sent to Bentley for repairs, and the original car was lost in France in 1939 at the outbreak of WWII.
The chassis of the car made it to the Bentley plant in Derby, but the damaged bodywork was destroyed in a bombing raid on Dieppe later in 1939 and never seen again. The project to bring the Corniche back to its original glory was put on the shoulders of the Mulliner division where one-off Bentley cars have been built for years. The Corniche was Mulliner's first historic car project and required all of the skills and capabilities of the division.
The Mulliner team used the original technical drawings and the skill of the people working there to bring the car to life. The car was rebuilt using original Corniche and MkV mechanical components and a completely remade body that is identical in every way to the original car. Bentley says that the Corniche will make its first public appearance at Salon Prive at Blenheim Palace in September.
After that appearance, the car will join the Bentley Heritage fleet where it will be used and exhibited at events around the world. Bentley notes that many of the parts that had been produced to make more Corniche models were kept through the early '70s before being sold to specialists and enthusiasts. The project initially started with a team of volunteers in Derby in 2008, but the project ran out of money. Bentley Motors then stepped in and provided funds with work beginning on the ash frame and aluminum bodywork. Eventually, Bentley CEO Adrian Hallmark took an interest in the project, and it moved to Mulliner.