mSpot premiers streaming movies on wireless carriers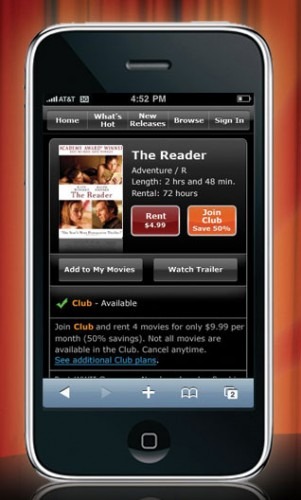 Watching content while on the go is one of the best features that many smartphones and feature phones offer. Being able to kill some time on a long commute by watching films right on, your phone is great. MSpot has announced that its new mSpot Mobile Movies service is now available on all four major wireless carriers on 30 different devices.
The initial devices that will support the streaming rental service include the iPhone, Blackberry devices, Palm, and Windows Mobile handsets. MSpot claims that many feature phones will also support the service. The streaming rental service has been in development for over a year and users can use their credit card to rent movies at $4.99 each.
The movies are viewed using the phones web browser and start instantly with no need to wait for a download or stream the rentals from a PC. Each movie is available in 18 different versions with different codex, bit rates, and aspect ratios to offer the best viewing experience. At launch movies from Paramount Studios and Universal Studios are being offered with new releases and the back catalog films available.