MSI Wind U123 now on sale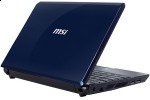 If you've been interested in a new netbook for quite some time but have been hoping for one to be released that's within your price range, the MSI Wind U123 , just might be your answer. The computer manufacturer, MSI Computer, has just released their latest netbook and it has quite a bit to offer.
This new netbook sports an Intel Atom 1.66 GHz N280 processor, 1GB of memory and a 160GB hard drive. It also features an ergonomic keyboard for ease of use and a 10.2-inch LCD display.
The U123 comes with EasyFace identification software, and the option of a 6-cell or a 9-cell battery. It's also available in four different color options including white, grey, red and blue. You can get the MSI Wind U123 starting today for $379.99.