MSI Wind - another Eee competitor from a reputable company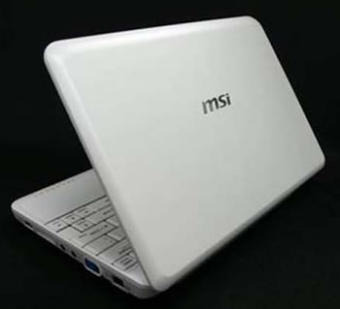 It's a little bigger, but the concepts are the same. It has an 8 or 10 inch screen, a fair sized keyboard and is based on Intel's Shelton platform with processors ranging from 1 to 1.5 Gigahertz.
You also get your choice of SSD or HDD drives since it has a 2.5" drive bay to accommodate those types of things. It runs your choice of Windows or Linux and the battery life is supposedly around 7 hours.
Right now it's a prototype, but they have colors, so far, in Blue, Silver, and Pink as well as the pictures White. As far as pricing, they start at $454 and go all the way up to $1069 at the top, most of that is probably a fairly large SSD drive as those things drive prices of anything up at a very rapid pace.
[via Crave]