MSI VR One backpack PC now available, packs with Core i7 and 90 min battery life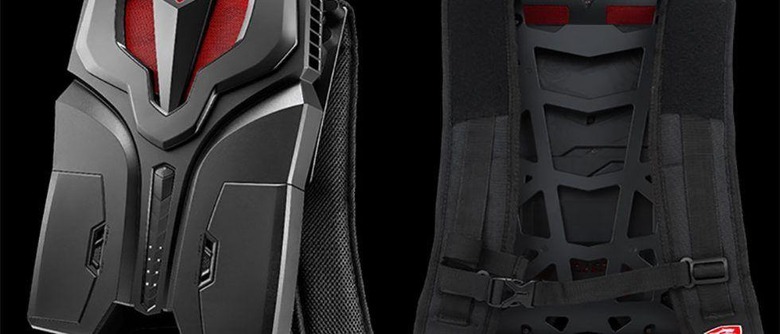 MSI has announced that its cool backpack PC for VR gaming has now hit the market for gamers to purchase. The PC is called the MSI VR One and it is the most powerful backpack gaming PC on the market today according to MSI. The machine is available right now in the US, Europe, Japan, Australia, China, and Taiwan. It will be available for purchase in more markets soon.
The MSI VR One PC is under 3.6kg and is thin at 54mm thick. The VR ready gaming computer is designed to allow freedom of movement when VR gaming by eliminating the PC and monitor cables that tie gamers down. It ships with a pair of battery packs that provide 90 minutes of full speed game play away from an outlet with max performance at all times.
The VR One is meant to be quiet with noise output of 40dBA when playing VR games. The processor inside the machine is an overclocked 6th Generation Intel Core i7 6820HK with graphics handled by a GeForce GTX 10 graphics card. The backpack is designed to insulate the wearer from any of the heat output the PC creates.
The batteries can be removed and it can be used as a standalone PC. When in that mode, it supports surround mode on three external 4k monitors. Connectivity options include HDMI port, mini displayPort, Thunderbolt 3 port, and four USB 3.0 ports. It also has a DC out power port for the HTC Vive.
The VR One bundle will ship with all the cables needed for connectivity. It sells for $1999 with a 256GB SSD, 6GB video memory and a GTX 1060 video card. Upgrade to a 512GB SSD and 8GB GTX 1070 video card ups the price to $2299.