Joining its other gaming laptops, MSI has taken the wraps off its new GS30 Shadow and an accompanying docking station called the GamingDock. The latter device can be used to boost the laptop's graphics prowess when it is docked via a more powerful graphics card in the dock.
The GS30 Shadow feature a fourth-generation Intel Core i7 and up to 16GB of memory, as well as an SSD storage option and an SD/SDXC/SDHC/MMC memory card slot. There's a 13.3-inch display boasting wide viewing angles and a resolution of up to 2560 x 1440 (as well as anti-glare, to keep those pesky light troubles at bay).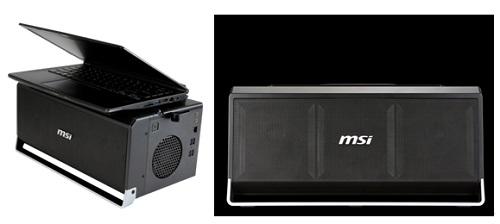 Other notable features include a backlit keyboard, two USB 3.0 ports, HDMI-out, 802.11ac, Bluetooth 4.0, a 720p webcam, Intel Iris Pro graphics, and a 4-cell battery. The system is loaded with Windows 8.1, and works with the aforementioned GamingDock.
The GamingDock is compatible with the GS30 Shadow, and can be fitted with a desktop graphics card to give the laptop a graphics power boost (the dock features a PCIe x16 slot). MSI has slated a January 2015 launch for the GamingDock — it isn't entirely clear if the Shadow will launch at the same time, nor at what price.
SOURCE: MSI