MSI brings its CES game on with new PCs, cards, and boards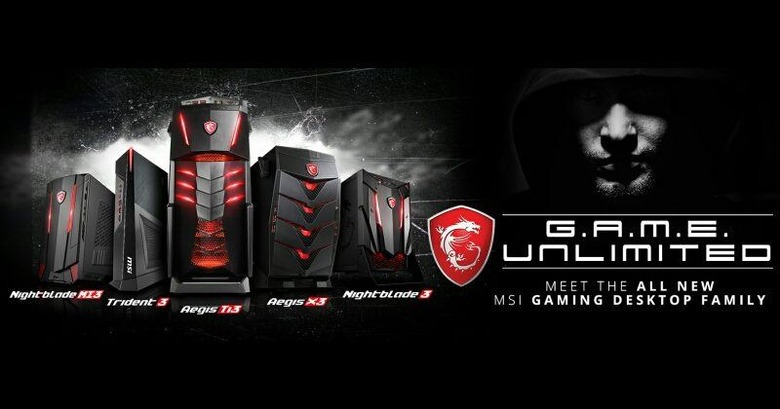 CES has always been a smorgasbord of treats for lovers of technology of all shapes and sizes, and gamers are no exception. From Samsung's first ever gaming laptop to the new PC and Mac loving GeForce NOW, there have been a lot of goodies waiting for twitching fingers. Not to be outdone, MSI has revealed in one fell swoop all the new things it has to offer, from traditional gaming laptops to VR rigs with 3D audio to blazing fast graphics cards extra cold cooling systems.
Virtual reality is the name of the PC game lately, and, unsurprisingly, MSI has loads of VR-ready computers sitting at its CES 2017 spot. And by "loads", we mean more than a dozen of them, including the GT83VR, GT73VR, GT72VR, GT62VR, GS73VR, GS63VR, GS43VR, GE72VR, GE62VR, GP62VR, GP72VR, GP62MVR, GP72/GP62, and GL72/GL62. And those are just the laptops! These notebooks boast of the newly revealed 7th gen Intel Core processors for performance notebooks as well as the fresh new NVIDIA GTX GeForce 1050 and 1050 Ti for laptops. Some of MSI's gaming notebooks also boast of being the first to sport "Nahimic VR", which brings immersion, spatial 3D audio to 3D worlds of virtual reality.

For those who prefer gaming in a more traditional, tower form, MSI also has got them covered with new motherboards and high performance graphics cards. Knowing how gamers love to show off their rigs, MSI has equipped it's new Z270 GAMING M7 and Z270 GAMING PRO CARBON with RGB Mystic Lights that can change their hues at the click of a mouse or, via a Gaming app, a tap on the smartphone screen. These motherboards aren't just all show, however. The Z270 M7, for example, boasts of Audio Boost 4 PRO that works with Nahimic 2 tech for the best sound experience. Those who prefer their motherboards plain but powerful might appreciate more the Z270 TOMAHAWK and its twin TURBO M.2 GAMING LAN and Audio Boost features.

Last but definitely not least are the graphics cards that are so crucial to gaming. These include the new GTX 1080 GAMING Z & X 8G cards, the GTX 1070 Quick Silver 8G, and the GTX 1080 30th Anniversary edition. But super powerful gaming cards will be rendered moot if they are brought to their knees by extreme heat. To go along with these are MSI's TWIN FROZR VI cooling system, now joined by a single Core Frozr cooler. And for those without even a desktop-grade card, the MSI GUS (Graphics Upgrade Solution) graphics amplifier can deliver that same performance to laptops, provided they have a Thunderbolt port.
MSI is also showing off a bunch of accessories that are still yet to come, like a GH70 GAMING headset and Vigor GK80 and GK70 GAMING keyboards with their Cherry MX switches. These promise gamers they will have something to look forward to even when CES is long over.