MovieWedge is a beanbag stand for your mobile phone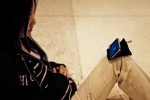 I have tried to watch YouTube videos and other content on my iPhone while on the go before. The big problem is typically finding a comfortable way to prop the iPhone so I can watch it without getting neck pain.
A new and very simple stand called the MovieWedge has been unveiled that will make propping up the iPhone and other devices a snap. The MovieWedge is a triangular beanbag style stand that conforms to uneven surfaces. You can make the stand assume different positions.
That means you can adjust the angle of the device on the stand for your comfort. The wedge is covered in a micro suede fabric that can also be used to clean the screen. The MovieWedge works with just about any device, even those in cases, and is available now for $9.95.