Movie watching just got easier with "What Is On Netflix"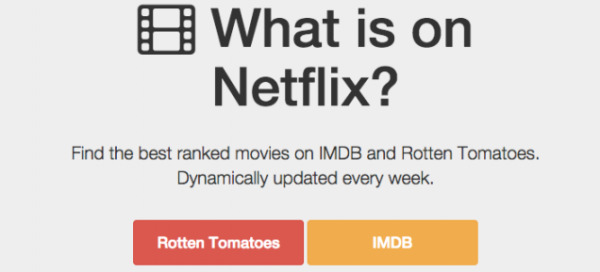 It's a common plight: you fire up Netflix and start scrolling, and scrolling, and scrolling...and you can't find anything decent to watch. It seems like most of the shows have disappointing ratings, and you've already binged on the latest releases. This usually leads to a bunch of other websites, where you hunt down "Top Ten" lists and similar charts in search of a movie worthy of taking up your free time. That ends up being a huge waste of time, sometimes returning something decent, somethings not.
Thus enters a new website called "What Is On Netflix?", where hopeful viewers are presented with two simple options: Rotten Tomatoes and IMDB. Clicking one of the two options then results in a list that has trimmed out all the fat, showing you only shows that have received top-notch ratings.
A bunch of movies are listed under both options, with the top result being the highest rated and each one under it having a slightly lower — yet still significantly high — score. Users can sort the list based on genre, paring it down to only the movies that are relevant to their tastes.
The IMDB list, in particular, also allows users to sort between movies and TV shows, while the Rotton Tomatoes list offers toggling between shows based on Audience Rating and the Tomatometer. The website itself is simplistic, but unless you've a lot of movies already under your belt, you'll no doubt find at least a couple things to watch right away.
VIA: Gizmodo