Motz Tiny Wooden Power Speaker isn't made by Geppetto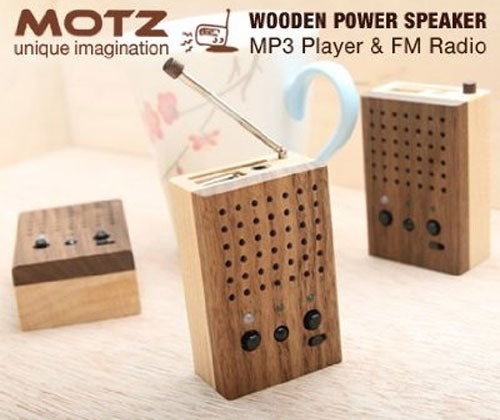 Pyramid Distribution has debuted a new and really nice looking small portable speaker that will play tracks from multiple input sources. The speaker is made from wood and called the Motz Tiny Wooden Power Speaker. The speaker is smaller than an iPhone, has an integrated FM tuner, and can play tracks directly from USB and SD cards.
The speaker also has a 3.5mm input that allows it to play your favorite tunes from any 3.5mm input source like the iPhone, iPod and lots more. Power for the little speaker is from a rechargeable lithium ion battery and it has an FM antenna hidden inside.
The tuner for FM transmissions has auto-scan mode and the battery is an 1100mAh unit. The battery will give you about ten hours of playback with headphones, and five hours when used as a speaker for other sources. The wooden case is made by hand and is apricot wood. You can order one up right now for $59.99.