MotorTrend's World's Greatest Drag Race 2017 is an epic race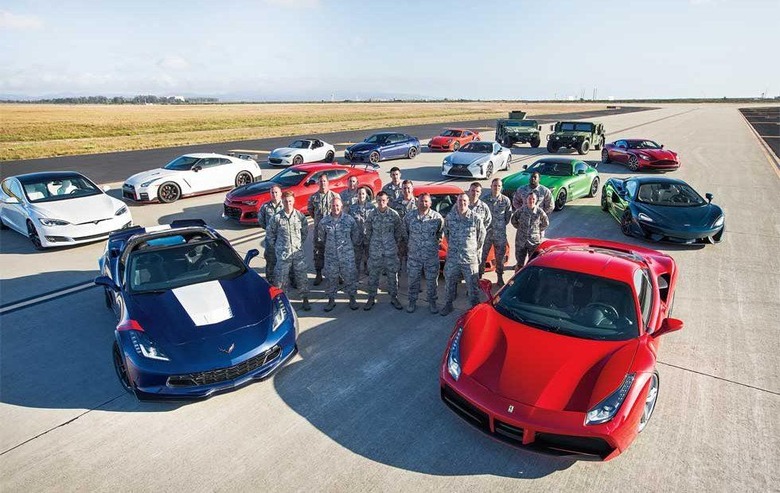 Since I was 12 and got my first subscription to MotorTrend magazine, I have long thought that the guys who get to work there have the greatest jobs ever. They get to drive all sorts of cool vehicles and drive them fast. They als get to do the World's' Greatest Drag Race, something they have done alongside their Best Driver's Car each year since 2011.
Many car guys and gals will agree that while the Best Driver's Car is cool, it's the drag race we really want to see. What car is the fastest, that is the question. For this year's race the crew took their cars down to Vandenberg Air Force Base to hold their race on an active runway at an active military base. It's cool that the Air Force allowed this to happen.
The cars in the massive drag race include the Ferrari 488 GTB, Porsche 911 Turbo S, Chevy Camaro ZL1 1LE, Porsche 718 Cayman S, Lexus LC 500, Mercedes-AMG GT R, Alfa Romeo Giulia Quadrifoglio, Chevrolet Corvette Grand Sport, Aston Martin DB11, Nissan GT-R Nismo, Mazda MX-5 Miata RF, and the McLaren 570GT (with a Tesla P100D with Ludicrous Plus thrown in for smiles).
My money is not on the MX-5 RF, but my heart is with it. We won't give away the ending, you will want to check out the video. The race was closer than you might think and that Porsche launched HARD. It's too bad if they were going to kick out the MX-5 RF and put in a ringer in the form of that Tesla, they should have tossed in a Hellcat as well.
The quarter mile is how the Hellcat lives its life and I'd have liked to have seen how Dodge's beast fares. This race also shows that the Corvette is in need of some more power to compete with many of the other cars in the race.
SOURCE: MotorTrend