Motorola's Evoke and MOTOROKR S320 at MobileFocus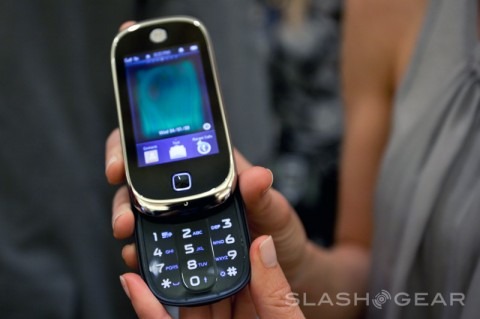 Motorola's freshly announced Evoke and MOTOROKR S320 Bluetooth Headset were at MobileFocus on Wednesday night for our viewing and hands-on pleasure. The Evoke is a decent touchscreen phone with a slide out keypad, as well as a full QWERTY when the touchscreen is in landscape mode. The phone home screen features 7 widgets that are always on, including YouTube, Weather, and more. The OS uses icon based buttons to make navigating as easy as possible for users who have never used a touchscreen device.
Video demo after the cut
The Evoke has a single button at the bottom which will return you to the home screen from wherever you are. For an inexpensive entry into the touchscreen market, the UI was slick, but perceptibly lagged at times. The capacitive screen felt good, and the device would be a good entry level touchscreen for those that want the touch screen capability, without sacrificing the keyboard.
The MOTOROKR S320 is a nice, lightweight Bluetooth headset with some nice touch controls, and a built in microphone. The 30mm speakers give a nice bass response and some clear highs. Overall, a nice headset with some great sound and a comfortable, lightweight feel. Pairing is capable with basically any stereo bluetooth device.
[vms e5646ef5a30154e9f6de]