Motorola 'Shamu', which may be the Nexus 6, benchmarked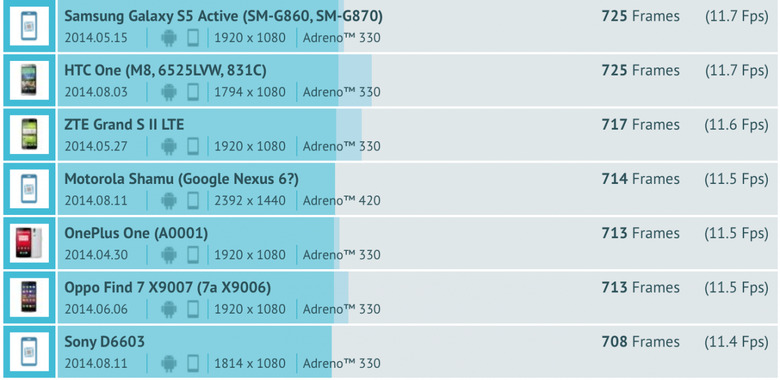 The Nexus lineup of smartphones is popular amongst Android fans. So is Motorola. The marriage of the two brands would be ideal for many smartphone enthusiasts, and it seems that may be just what is happening. A new Motorola device, with specs that blow the rest of their lineup away, has been spotted on a benchmarking site.
GFX Bench has what is being called the Shamu, and is the Motorola device many think will be the Nexus 6. The listing even suggests as much, with "Google Nexus 6?" in parenthesis just after the name. Performance stats show us it's just behind the HTC One (M8) and Samsung Galaxy S5 Active.
Specs give us the reason why it's testing so high. A 2,392 x 1,440 resolution on a 5.2-inch display is very LG G3-esque. A 2.6GHz Snapdragon 805 and Adreno 420 GPU are as good as you can get, and 3GB RAM with 32GB memory keep things humming right along. A 12mp camera on the back leaves a bit to be desired, but that seems to be the new normal for Nexus cameras. The rear camera is said to be able to handle 4K video, though. A 2mp shooter sits up front for all your selfie needs.
A device that robust this late in the year — it almost has to be the Nexus 6. Unless Verizon is asking Motorola to go over-the-top with the DROID lineup — and they almost certainly aren't — this is likely your next Nexus. Given Motorola's history of solid builds, it also might be the best one yet.
The Nexus 5 came out on Halloween last year, and the Nexus 6 will likely hit around the same timeframe this year. Look for more leaks and pics as we get closer to late Fall.
Source: GFX Bench