Moto E third gen smartphone hits the low-end range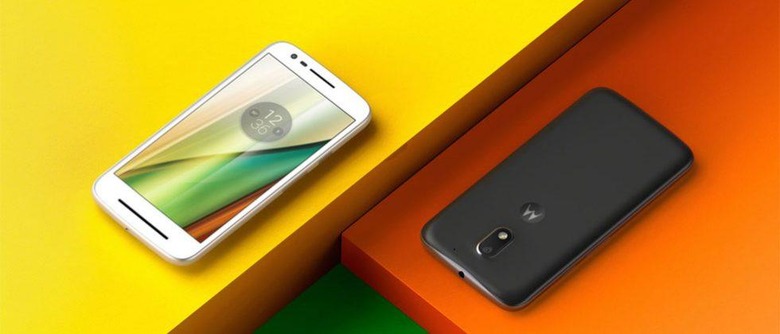 Motorola has launched a new budget smartphone that slots itself neatly on the bottom rung on the product ladder for Motorola. The device is a new third generation Moto E handset that packs in decent specifications considering its low £99 asking price. The updated Moto E features a 5.5-inch screen that has a resolution of 1280 x 720.
Lower screen resolution is something you always expect with an entry-level device. The processor heart of the Moto E is a quad-core unit and the smartphone has a microSD card for storage expansion. It's unclear exactly how much integrated storage the device has, the previous version had a scant 8GB. At least there is a memory card slot for expansion if that storage carries over to the new version.
The Moto E does get a water repellent treatment to help it survive splashes and getting caught in the rain. Cameras are 8MP rear and 5MP front. Motorola is holding back on all the detailed specification on the device for now. The only other data we know is that it will launch in early September and be available via Tesco, Amazon, Argos, and O2.
Motorola has also given up some new details on the Moto G4 Play smartphone, the important part here is that you will be able to get it in the UK soon. It will land in mid-August and will sell for £129 when it does. The G4 Play packs a Snapdragon 410, 2GB of RAM, 2800 mAh battery, and 16GB of storage. It's screen is a 5-inch HD resolution unit. It shares similar 8MP rear camera and 5MP front camera. Both of these smartphones will run Android 6.0 Marshmallow out of the box.
SOURCE: Pocket-Lint