Motorola i465 on Nextel with full QWERTY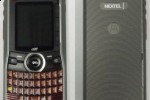 Motorola and Nextel are best friends since their agreement that Motorola would keep producing iDEN handsets. The latest iDEN product out of the American manufacture is the i465. The phone has cleared the FCC and will be on the Nextel iDEN network sometime in the near future we assume.
iDEN, more commonly known as the Push-to-Talk network, is a popular feature among businesses that require instant and simultanious communication with numerous people around the country. It offers a national range, unlike simple walkie-talkies, and doesn't add any additional hardware, though the phones are often lack-luster.
That doesn't appear to be so with the i465. The full QWERTY keyboard will make for some nice texting functionality, and it will compete with the BlackBerry phones currently offered by Nextel.
[Via The Boy Genius Report]