Motorola DROID XYBOARD 10.1 and XYBOARD 8.2 hands-on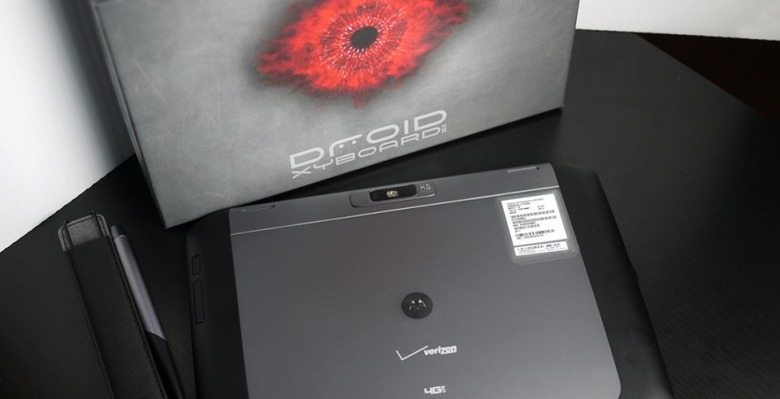 Motorola's first-gen XOOM launched with plenty of promise at the beginning of the year, but Honeycomb – and some expensive data plans from Verizon – left the Android alternative to the iPad looking less than appealing. Now Motorola's second attempt at the segment, the XYBOARD 10.1 and XYBOARD 8.2, have arrived, fresh to the SlashGear test bench with new angular styling, faster processors and some special features that might at least give new tablet shoppers an idea what exactly to use big-screen slates for. Read on for our first impressions.
With these second-generation tablets, Motorola has addressed some of its early criticism. The aluminum rear on both the 10.1-inch and the 8.2-inch tablets feels great and is flex-free, with a pleasing matte finish that makes it almost as easy to grip as the rubberized edges. Unfortunately Motorola didn't listen to the almost universal criticism of its power button placement on the first-gen XOOM, and in fact opted to make it even smaller this time around.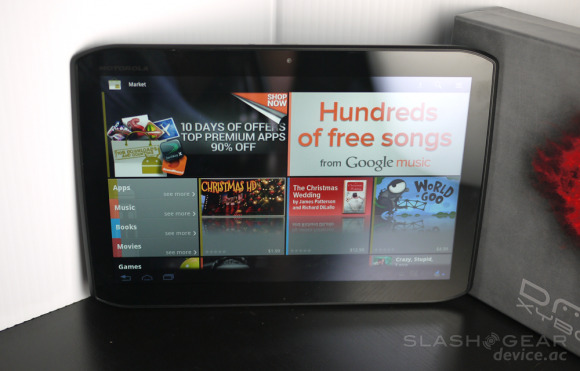 Still, up front is a new IPS display running at 1280 x 800 on both models, and it's a vast improvement. Viewing angles, brightness and resilience to glare are all improved, making for slates that are far more useful for watching videos, browsing the web and gaming. Unfortunately, ASUS has moved the Android tablet display market on somewhat, with its IPS+ panel being better still than either of Motorola's screens, but as long as you don't look at them all side-by-side you shouldn't be too disappointed.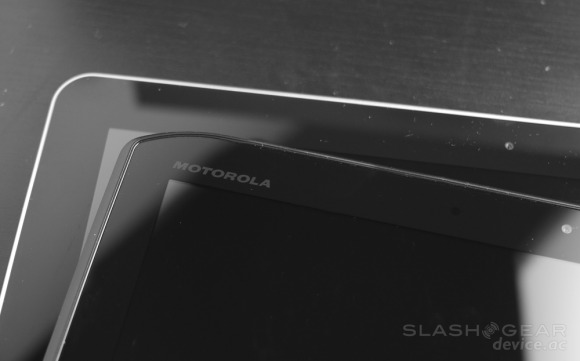 The 10.1-inch XYBOARD feels familiar in the hand, being a relatively standard size; the 8.2-inch version is slightly smaller, at 216 x 139.8 x 8.99 mm and 390g, and makes for a more comfortable one-handed experience. That's particularly useful when in portrait orientation, the XYBOARD 8.2 making for a solid ereader and news reader with apps like Google Currents and Pulse.
Problem is, Motorola and Verizon have rushed to get the two XYBOARD models on the market before the all-important holiday sales period, and that means they fall in-between another big milestone: the arrival of Ice Cream Sandwich (ICS). Currently officially available on only the Galaxy Nexus, ICS promises to polish away Honeycomb's rough edges, streamline its judders and generally bring it further up to compete with Apple's iPad.

A competitive price would challenge that, but Verizon seems determined to squeeze as much in data fees as possible from its tablet customers. Both XYBOARD models support 4G LTE for high-speed mobile data, but you'll pay considerably over the length of a two-year agreement for it. Factor in at least $429.99 upfront, too.
Still, there's the possibility that the tablets themselves could prove sufficiently engaging that we'd opt to buy now and wait for ICS later. We'll be putting them both through their paces in time for the full SlashGear review, but until then enjoy our hands-on image gallery (video coming soon)!