Motorola DROID RAZR boasts a ton of accessories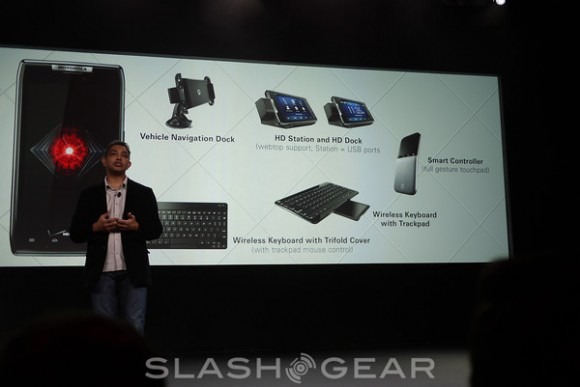 Motorola just officially unveiled the DROID RAZR and not only does the phone pack powerful internals, but it also comes with a whole host of optional external accessories that further extends its capabilities. One of these accessories is the LapDock along with Motorola's webtop app that turns your DROID RAZR into a laptop when it's docked, similar to what we've seen with Motorola's Atrix and the Atrix 2.
The DROID RAZR is compatible with Motorola's Lapdock 500 Pro or Lapdock 100. Both feature a slim laptop form factor that only comes to life when your DROID RAZR is docked. It allows you to use the computing power of your smartphone on the larger laptop-sized screen to watch movies, play games, edit documents, and browse the web via the full desktop version of the Firefox browser.
[vms 21445772454cbddf0cac]
Motorola DROID RAZR Accessories hands-on rundown
The device will also work with Motorola's HD Dock or HD Station to connect to your HDTV, speakers, and other productivity peripherals or large screen entertainment devices. And when it's connected, you can use Motorola's Smart Controller accessory as a remote control to easily navigate your smartphone interface on your HDTV with zoom, pinch, and rotate multi-touch capability. It even lets you take and make calls with your phone remaining in the dock.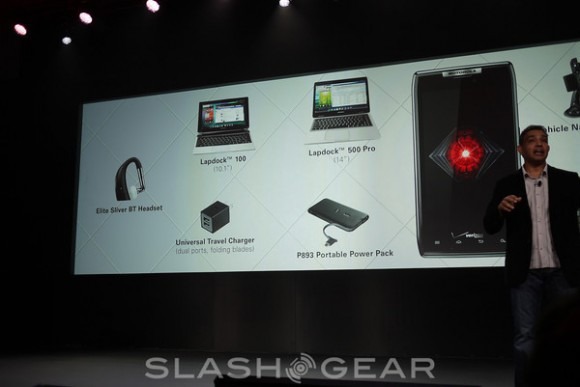 Additionally, there is a GPS navigation dock, an extended battery pack, and a Bluetooth keyboard. There's also the Motorola ELITE SLIVER Bluetooth headset that can pair with the device for discrete hands-free talking.