Motorola DROID 3 Review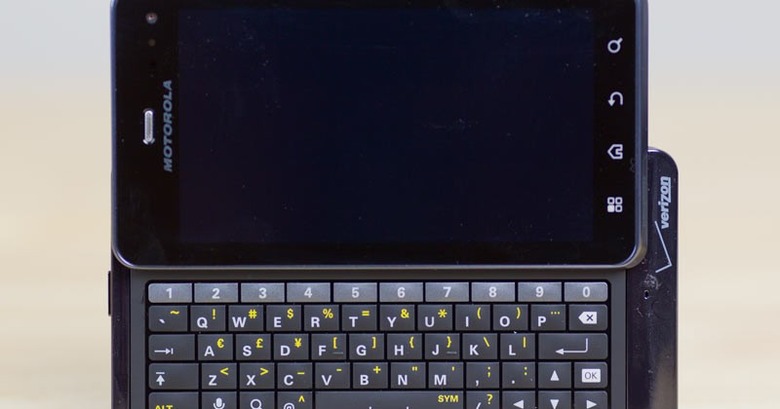 The Motorola Droid 3 is the latest successor in a line of powerful handsets that have helped define Android smartphones. Like its predecessors, the Droid 3 takes on an angular physique but with thinner profile and a larger footprint. It launched on Verizon in recent weeks and although it does not support 4G LTE, it does have the advantage of being a world phone with SIM card included.
Hardware
The Droid 3 features a larger 4-inch (960 x 540) qHD display and a five-row slide-out QWERTY keyboard. Inside, it runs on a 1GHz TI OMAP 4430 dual-core processor with PowerVR SGX540, which is rated to be twice as fast as the previous SGX530 GPU. RAM remains at 512MB, while internal storage is now bumped up to 16GB, expandable with up to 32GB microSD.
External ports include the usual micro-HDMI, micro-USB, and 3.5mm headphone jack. It has the physical power button centered on top, volume rocker on the side, and the standard four capacitive touch buttons of Android devices.
Camera specs have been boosted to an 8-megapixel rear-facing camera, capable of 1080p HD video capture. However, the LED flash is now replaced with a single LED that seems to do the job of the dual-set used previously. A front-facing camera has also been added, but only of VGA quality.
[vms dad141560467e0a99e1c]
Software & Performance
Motorola's customized interface runs on top of Android 2.3.4 Gingerbread. It's no longer called Motoblur with a rather nice, clean look and some new icons along with new animations between windows. Five windows are available for adding your favorite widgets and apps, and the included widgets are nicely minimal. There is also a dock at the bottom of the screen with four customizable icons.
Preloaded are around 60 apps, which include a selection of Google apps, GoToMeeting, BlockBuster, and Skype to name a few. At the top right corner is a shopping bag icon that takes you directly to the Android Market, while to the top left is dropdown menu that lets you sort and filter your apps by Recent, Downloaded, All, or any custom group that you've created.
Benchmark scores for the Droid 3 are decent. The synthetic benchmarking tools we used include Quadrant Pro, Vellamo, and Smartbench 2011.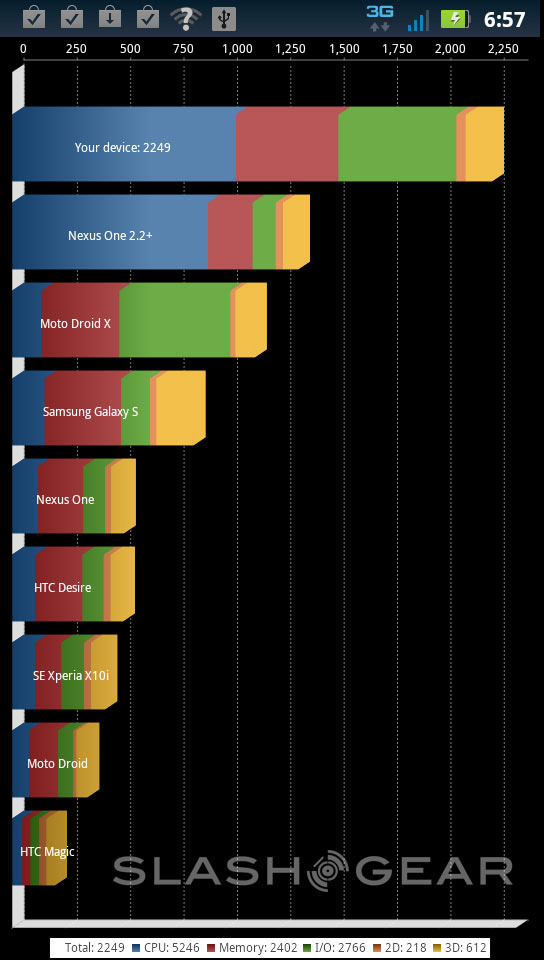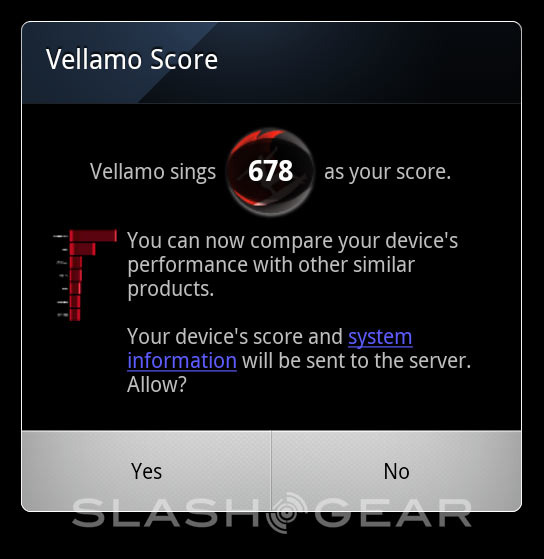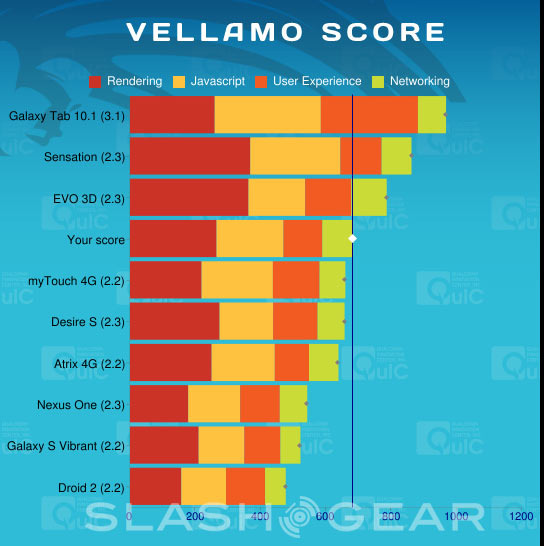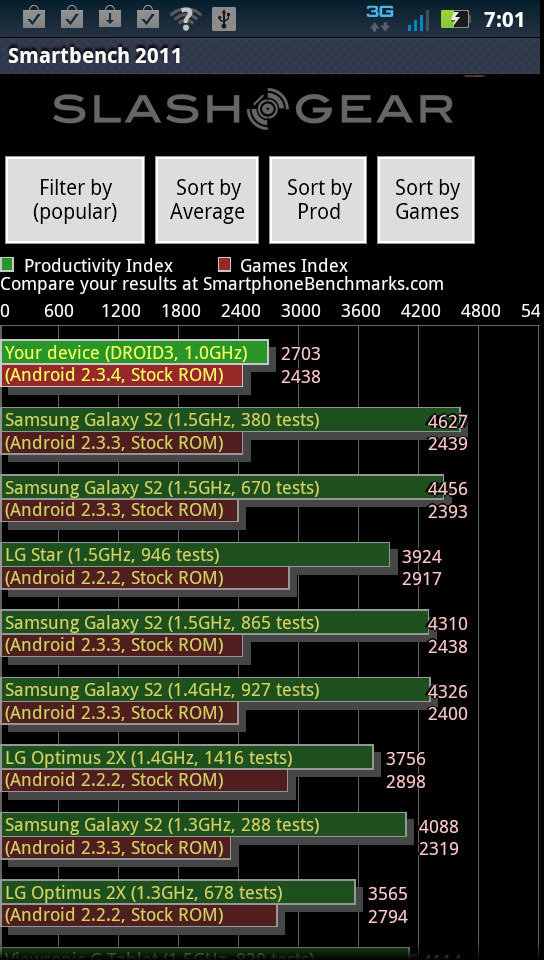 Battery & Camera
The Droid 3 will last you about a day given average use. It's 4-inch qHD screen and dual-core processor will put a drain on the small 1540 mAh battery, but if you charge nightly, then it shouldn't be an issue.
The camera quality boost to 8-megapixels is a nice bonus, offering crisp image stills and sharp 1080p videos. The below image and video were shot very close-up to some dry brush full of prickly thorns sitting in lava rock and demonstrates how nicely the camera captures all these tiny details. However, after video compression, the short clip you see below doesn't really do the Droid 3 camera justice.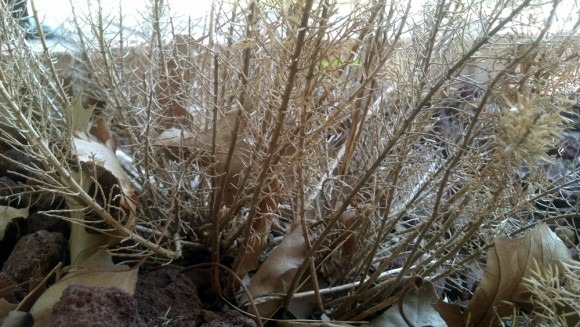 [vms 2d5ced125a4bf747b368]
Wrap-Up
The Motorola Droid 3 is a good upgrade from the Droid 2. The overall design has remained mostly unchanged, which will be good for fans of the original that are looking for the same form factor but with boosted specs.
You will especially like the larger 4-inch qHD display, a thinner profile, and redesigned QWERTY with an extra row dedicated for number keys. There's also the better 8-megapixel camera capable of 1080p HD video capture and the addition of a front-facing VGA camera—although that will be good only for video chatting.
The new "not Motoblur" interface is clean and snappy without too many custom widgets that get in the way. Performance is excellent with the new TI OMAP 4430 dual-core processor and battery life is decent though not great.
The only gripe perhaps is that the device does not support 4G LTE on Verizon's network. But it is a world phone with dual bands and even comes with a SIM card inside. For those hoping for a 4G LTE handset, then perhaps wait for the Droid Bionic that should arrive sometime in September. But the trade-off then will be no QWERTY and no use abroad. So it really depends on your priorities.
The Droid 3 is currently available through Verizon for $199.99 with a new two-year service agreement. Off contract, the phone is selling for $459.99.