Motorola Droid 3 Leak Confirms Specs And July 14 Release

We've been hearing about the Motorola Droid 3 smartphone for quite some time. No official announcements have been made yet, but images and videos of the device been leaking since early this month. And now, new leaks are confirming the handset's rumored release date and specs.
The Motorola Droid 3 follows after the Droid 2 and Droid X2, all of which have already launched on Verizon. The below leaked image from Android Central confirms that the Droid 3 will indeed feature a 4-inch qHD display running Android 2.3 on a TI OMAP 4430 1GHz dual-core processor. It will come with a front-facing camera and an 8-megapixel rear-facing camera capable of HD video capture along with LED flash.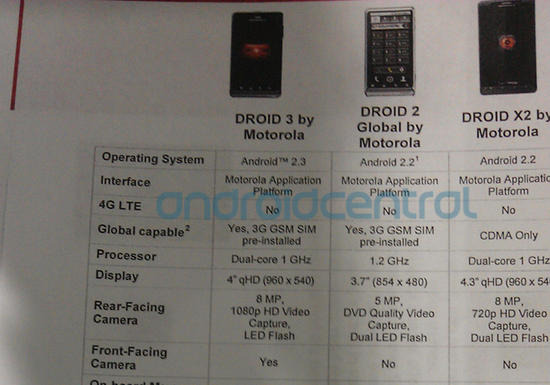 Although the handset lacks Verizon's high speed 4G LTE support, it will come with pre-installed 3G GSM SIM making it a world phone. This means that it can be used on GSM networks abroad. And for those who like a slide-out QWERTY keyboard, this handset's got it.
According to the leaked image from DroidLife, the handset will be available for direct fulfillment starting July 7, but won't be rolled out across Verizon Wireless stores until Thursday, July 14. However, pricing is still uncertain, but likely to be around the $199 range with a new 2-year contract.
[via Android Community]