Motorola DreamGallery is company's answer to Google TV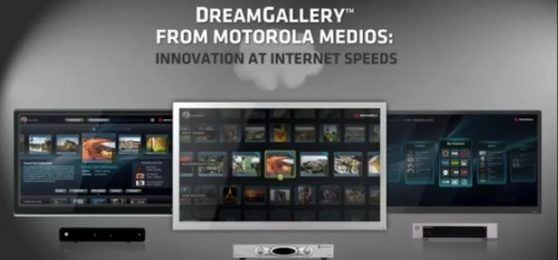 Motorola isn't in the business of manufacturing TV sets. But it still wants what you to see one of its creations when you sit down in the living room. Introducing DreamGallery, a brand new operating system for Internet-connected TVs. It will assumedly work similar to Google TV in that Motorola will produce the software but it has to sweet-talk manufacturers into providing the hardware.
One of its slogans appears to be "Say 'good-bye' to the traditional grid," referring to the standard interface that exists on most media-centric platforms. Whether it's a proprietary TV manufacturer operating system or even Android or iOS, we've come to expect an interface that presents our apps in a series of parallel boxes. DreamGallery will try something different.
The platform boasts "intuitive graphics to help viewers find their content – fast," "personalized recommendations" for new content, and various tools and services that will make it easier on both the content provider side and the end user side to tailor their experiences accordingly. It certainly looks nothing like any other TV operating system has today. Don't take our word for it. Check out the video:
[via VentureBeat]