Motorola Devour Review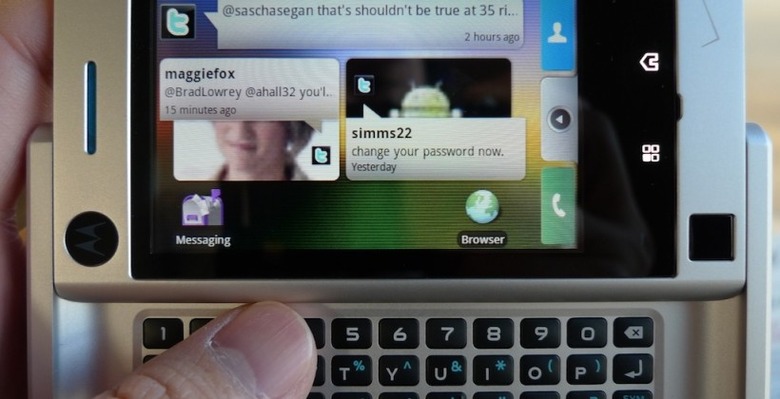 The Motorola DEVOUR left us underwhelmed from the press shots piqued our interest when we played with its excellent metal casing at MWC 2010 last week, and prompted confusion when we saw how closely it would be priced to the Motorola DROID. With a review unit in hand, the argument becomes a whole lot more straightforward, but is that in Motorola's favor? Check out the full SlashGear review after the cut.

Like many have found with a Sidekick, rather than prove ergonomically unsound the raised edges at either side in fact make the DEVOUR easier to hold while typing. The switch to an optical joystick rather than a physical D-pad means there's no layout offset (as affected both the DROID and the CLIQ), and it's nicely placed within thumb's-reach.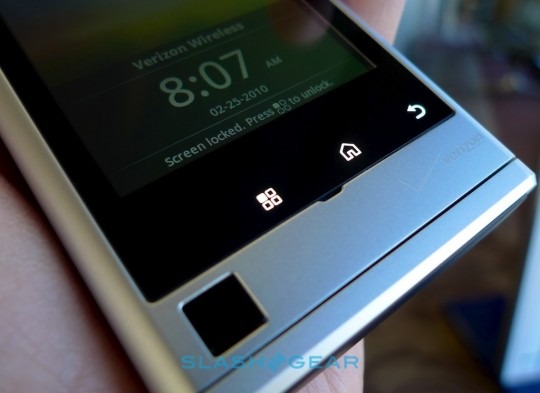 Where the experience begins to pale is once you turn the DEVOUR on. Build quality may be on a par with the DROID but the hardware is definitely more budget minded. The 3.1-inch display runs at HVGA (320 x 480) resolution (compared to the DROID's 3.7-inch 480 x 854 panel) and while the capacitive touch layer is as responsive as we've come to expect from the technology, we miss the extra pixels. The DEVOUR is a MOTOBLUR device, which means ready integration with various social networks, but the payoff is being limited to an older version of Android. Motorola are yet to rework MOTOBLUR to suit Android 2.1, the current release, and so the DEVOUR is stuck with Android 1.6.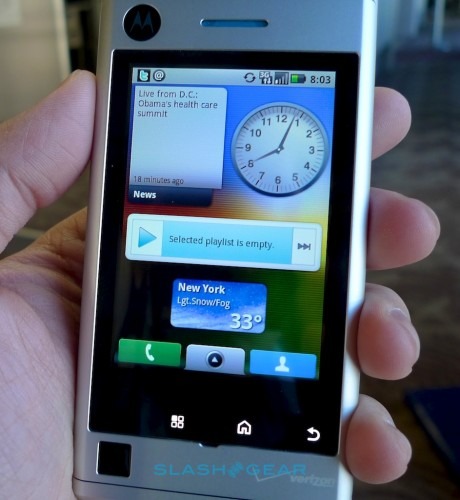 That not only limits the applications that will run – the recently launched Google Earth for Android demands v2.1 – but it puts DEVOUR owners constantly on the back foot waiting for future updates. As we've seen with the CLIQ, manufacturers promise newer versions of the OS but timescales are generally a mystery.
Perhaps more pointedly, MOTOBLUR remains flawed in its execution. Despite complaints about the earliest devices, minor issues – though issues which third-party apps generally get right – continue to litter the system. The perennial bugbear of Twitter "@" mentions being treated as regular messages rather than flagged up as with Direct Messages makes monitoring your tweets more frustrating than is the case in, say, Seismic or Twidroid. Motorola continue to add social networking services to MOTOBLUR, but it's proving a relatively slow process.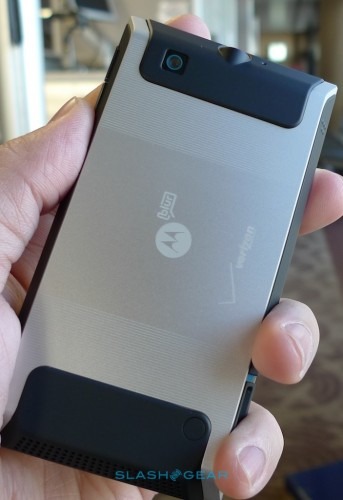 There are other shortcomings too. The DEVOUR's 3-megapixel camera drops not only pixels but also autofocus from the DROID, resulting in mediocre images that tend towards the blurred and have muted, washed out colors. Given the DEVOUR is basically the same size as the DROID (even a little thicker) the lower-resolution camera rankles since they presumably could easily have slotted better optics inside. There's a 3.5mm headphone socket, which we approve of, but the standard Android media player would've been an excellent place for Motorola to work some magic. Sadly that's not to be; there's DLNA support for streaming content from the DEVOUR to other DLNA-compliant devices, and Verizon's V CAST Music app with Rhapsody, but it's still a patchy media experience from a usability standpoint.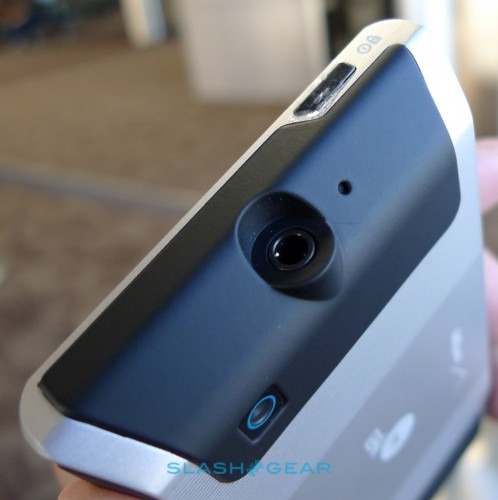 Other connectivity includes access to Verizon's EVDO Rev.A 3G network, WiFi b/g and Bluetooth 2.0+EDR, together with a microUSB port and AGPS. The 1,400mAh Li-Ion battery is rated for up to 389 minutes talktime or 443 hours standby; in practice, with MOTOBLUR doing its social networking checks and Exchange push-email turned on, you'll be recharging the DEVOUR nightly as with most other smartphones. The side-loading compartment also means that there's unlikely to be an extended battery option, though given the DEVOUR's target audience that probably isn't too big a deal.
It's the target audience issue that leaves us confused by the Motorola DEVOUR. The combination of MOTOBLUR and the decent hardware keyboard would suggest that this is a handset for message fanatics, looking to step up from a feature phone. Verizon's official price is $100 (with a new, two-year agreement), which puts the DEVOUR on a par with most high-end feature phones (many of which have larger, better displays and more user-friendly media player apps). Unfortunately, while Verizon are still looking for $200 for the Motorola DROID, Best Buy have already announced they'll be selling it for $100, the same price as the DEVOUR. The new phone's design and build is impressive, but we'd go for the DROID every time.
Motorola Devour Unboxing and hands-on video:
[vms d9667e38940169d0a3c9]