Motorola BACKFLIP review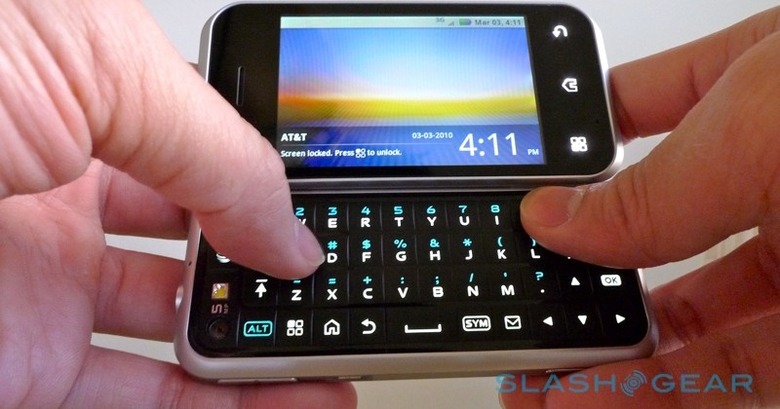 After a slow start, Motorola have taken off running with Android smartphone development. Only last week we were reviewing the Motorola DEVOUR for Verizon, and this week we've had the Motorola BACKFLIP in our hands, headed for AT&T's network in the US. The first example of a new, distinctive form-factor for Motorola (and indeed Android), is the BACKFLIP more than just an unusual design? Check out the full SlashGear review after the cut.
Much of the internal specifications of the BACKFLIP are things we've seen before from Motorola. Up front there's a 3.1-inch HVGA capacitive touchscreen (swimming in a bezel sea), while embedded into the left side of the QWERTY keyboard is a 5-megapixel autofocus camera with LED flash. Inside the same processor as in the CLIQ runs Android 1.5 complete with Motorola's MOTOBLUR social networking integration. There's triband 7.2Mbps WCDMA (850/1900/2100) and quadband GSM/EDGE, along with WiFi b/g and Bluetooth, and a 3.5mm headphone jack. Storage is via microSD, with a 2GB card in the box and up to 32GB supported.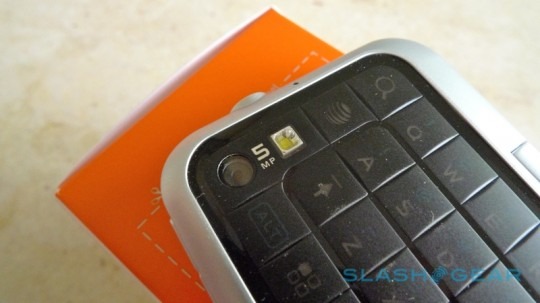 Of course, what distinguishes the BACKFLIP is its design: while it's hinged like a clamshell, the QWERTY keyboard actually folds all the way around from the back like a desk-stand. In fact, Motorola expect the 'board to be used to prop the BACKFLIP up during video playback or when using the phone as a bedside alarm. Rather than protecting the keyboard when closed, the form-factor means the buttons are permanently on display. That's forced Motorola to toughen up their QWERTY, and the end result is a 'board less comfortable to type on than that of the DEVOUR. It's all very low profile, with shallow grooves differentiating between individual keys, and the layout has been squared off. Key caps themselves are large and easy to thumb, but heavy-duty messaging fiends should probably look elsewhere.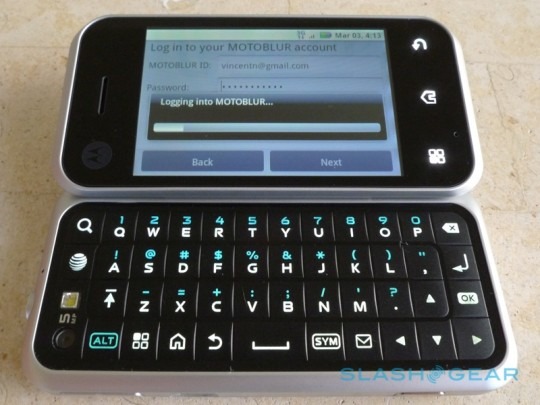 Just as we criticized the DEVOUR for its ageing OS version, so the BACKFLIP earns a black mark for being stuck with Android 1.5. Motorola insist that the handset will be compatible with Android 2.1, but there's still no timescale as to when that update might take place. MOTOBLUR itself is the same combination of homescreen widgets (here offset from the central pane by AT&T's own customizations; more on that later) and interlinked services, pulling together content and updates from Facebook, Twitter, MySpace and other social networking sites and squirting them into a single "Happenings" feed.
MOTOBLUR remains one of the more ambitious solutions to social networking overload, but it's far from perfect. As we commented on the CLIQ and DEVOUR before it, it's all too easy to miss important updates as they get buried under the weight of the combined stream, especially as the MOTOBLUR Twitter client doesn't differentiate between @-mentions and regular tweets. Motorola are slowly adding support for more services to MOTOBLUR, but we're not convinced that there aren't standalone apps in the Android Market that do the job better overall, and of course Android 2.1 has improved integration of things like Facebook.
Speaking of the Android Market, the BACKFLIP gets all the usual Google apps including the YouTube viewer, Google Maps and Gmail, but AT&T have cut a deal with Yahoo! to replace anything powered by Google's search engine with the rival service. Similarly, AT&T have loaded up the smartphone with a heap of their own applications: the standard Android media player is replaced by AT&T Music (no great loss, frankly) while rather than Google Maps the carrier is pushing for you to use AT&T Navigator and AT&T Maps. They've also preloaded various usability and entertainment software, which to be honest we'd rather see left in the Android Market unless we specifically request it; that includes MobiTV and Music ID, together with All Sport GPS and others.
The end result is a device that doesn't run as slickly as we've come to expect from Android phones. The CLIQ was never a speed demon – it took the 800MHz DROID for that to happen – and the DEVOUR, with the same CPU and even more apps installed by default, feels sluggish and tardy. Having the hardware keyboard does mean you can generally avoid one of the key areas of frustration, the on-screen 'board, but it's nowhere near perfect and, after two years of a typical AT&T agreement, we've a feeling you'd be kicking yourself for not opting for a faster device.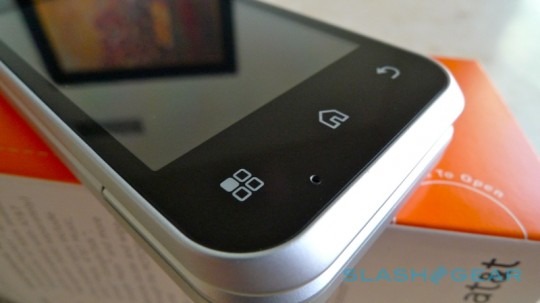 It's a shame, because there are some real usability improvements on the BACKFLIP. The rear-mounted trackpad, which sits on the back of the display section, is decent to use; the small display feels slightly less cramped when your fingers aren't constantly jabbing at it, instead navigating from the back. It's worth remembering that you can't use the trackpad without opening up the phone first, of course, which makes it less useful for grab-and-go situations. Meanwhile there's a serviceable dual-microphone array with noise cancellation, which does a good job of reducing in-call background hiss. It's not as effective as some of the systems we've seen recently in Bluetooth headsets, but it's reasonable all the same and particularly handy for speakerphone calls.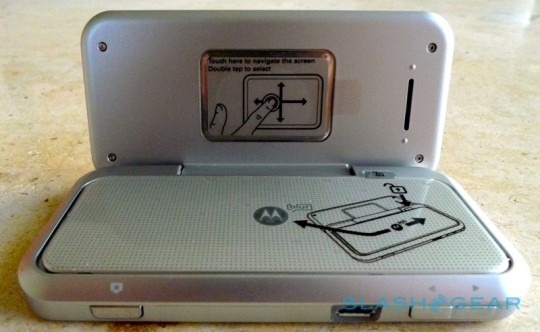 Like pretty much every Android device we've used lately – indeed just about every smartphone – the Motorola BACKFLIP requires a recharge nightly. Heavy use of MOTOBLUR and push-email (for which there's Microsoft Exchange support) might see your phone begin to expire a little earlier in the evening, too. Motorola quote up to 6hrs of continuous talktime from the standard 1,400mAh battery.
Camera performance is an improvement on the DEVOUR, as the sheer megapixel count would suggest, but it's also got a slight edge on the DROID, too. We're not talking about perfect, pristine shots as you'd get from a decent standalone camera, but the autofocus is reasonably fast and, despite the absence of a dedicated macro mode, we were able to get up close to text and keep it crisp and clear. That's handy when you're using OCR-enabled services like Evernote to keep track of scraps of paper. Since the camera is embedded in the keyboard, it's also well-placed for self-portrait shots; that's made easier by being able to see the display rather than having to line things up with a tiny circle of mirror as on other phones.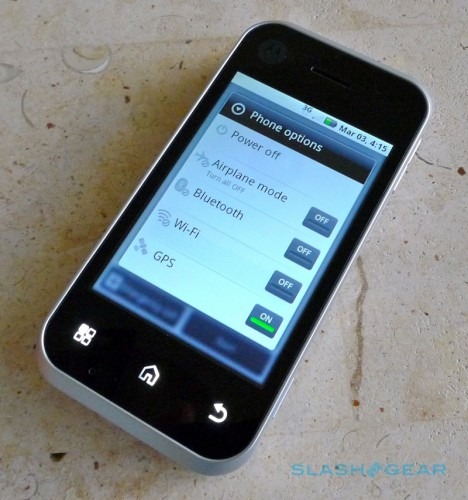 As another Android handset to add to the growing ranks, the Motorola BACKFLIP isn't a bad device. As the first Android handset to (officially) reach AT&T's network, however, we're left disappointed. T-Mobile has long been known for cornering the Android market in the US, and arguably what's Motorola's best device, the DROID, is over on Verizon. The BACKFLIP's distinctive form-factor has its benefits, but we're not sure they're sufficient to distinguish it from other handsets out there; when you take into account the old version of Android it runs and uncertainty regarding upgrade timescales, that's several good reasons we can think of to give the phone a miss. If you're addicted to AT&T and simply must have Android, we'd wait a little longer for the HTC Desire with its Snapdragon processor and significantly larger display.