Motorola ATRIX 4G review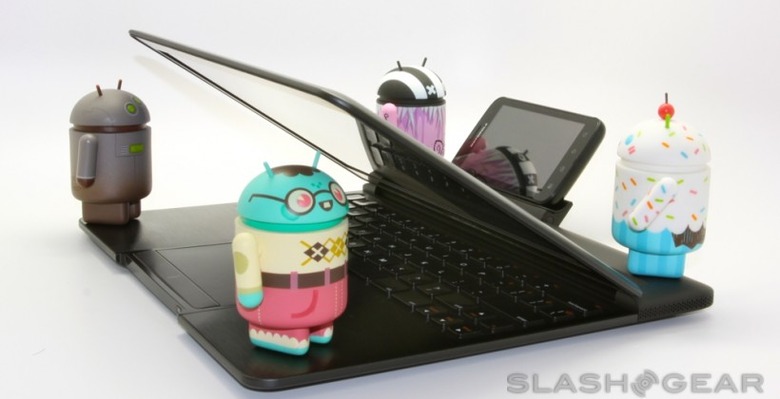 You have to be a pretty special device to win Best Device of CES, and this year Motorola's ATRIX 4G took away the coveted crown. It's not hard to see why, either: the 4-inch Android smartphone not only pairs NVIDIA's dual-core Tegra 2 processor with a beautiful qHD display, but offers some compelling accessories such as a laptop-style docking station that wants to replace your MacBook Air. Plenty of promise, then, but does the ATRIX 4G deliver the speed, data and flexibility AT&T promise? Check out the full SlashGear review after the cut.
Hardware
It's tough to pick holes in the ATRIX 4G's spec sheet; Motorola has put together a solid list of hardware that pushes several of the limits we've seen on recent Android devices. Build quality is solid plastic with a fair amount of heft in the hand: it's a dense handset, at 63.5 x 117.75 x 10.95 mm and 135g, and feels reassuringly free of creaks and flex. There's something about the fascia that reminds us of the HTC Touch HD, discrete and sober.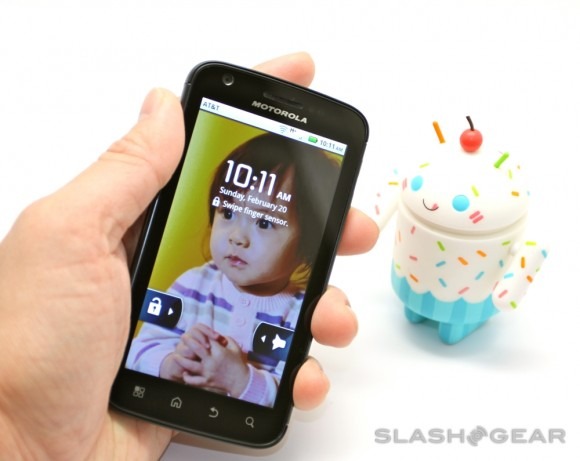 Under the Gorilla Glass sits one of the ATRIX 4G's key selling points, a 4-inch qHD capacitive touchscreen. Running at 960 x 540 it's a welcome step up from the WVGA 800 x 480 that has become the de-facto standard for Android handsets over the past twelve months or so. That adds up to a pixel density of 275ppi, short of the iPhone 4's Retina Display, but still noticeably crisper than most other rivals. Viewing angles are broad, colors are accurate and – as long as you're not in direct sunlight – there are few problems with brightness. Underneath are the usual touch-sensitive Android controls, for menu, home, back and search, while above there's a VGA-resolution webcam for video calls, along with brightness and proximity sensors.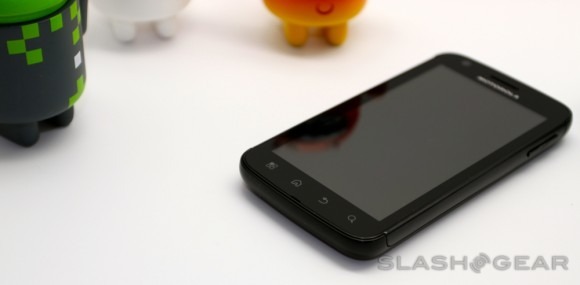 On the left edge there's the microUSB and HDMI connectors, while the volume controls are – somewhat unusually, but still perfectly usable – on the right.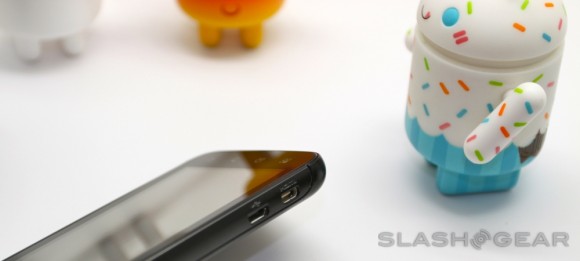 On the angled top edge there's the 3.5mm headphone port and a power button that doubles as a fingerprint scanner.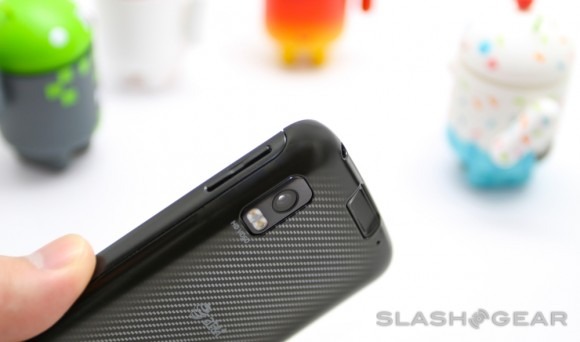 We rarely had any issues using this, unlocking the ATRIX 4G with a quick swipe; on a few occasions it took a second pass, but generally the fingerprint system is easier than the usual Android lock screen. Happily there's a passcode backup should you persistently encounter issues, or need to give someone else access. A speaker sits on the bottom edge, while the 5-megapixel camera with a dual-LED flash is on the distinctively patterned back.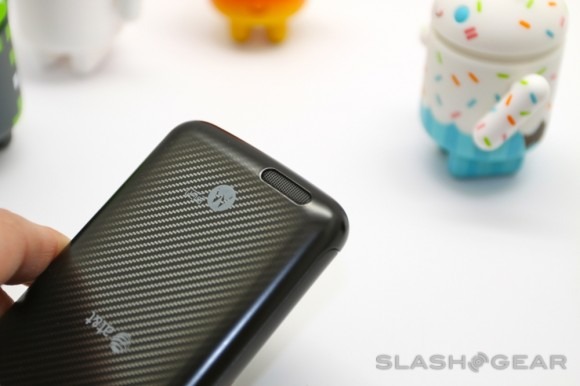 Inside, the dual-core NVIDIA Tegra 2 takes price of place, a set of two 1GHz cores paired with a healthy 1GB of DDR2 RAM and 16GB of integrated storage.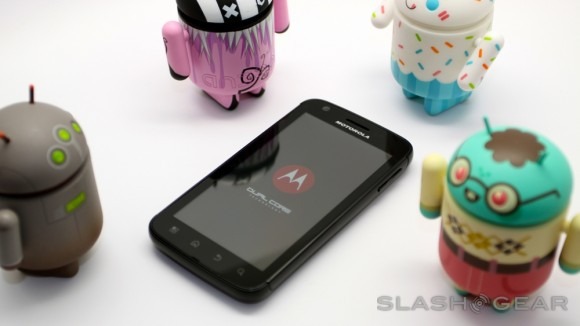 There's a microSD card slot for a further 32GB, and given the ATRIX 4G will shoot 720p HD video and – with its Entertainment Center – is aiming to handle your A/V requirements, that storage potential is very welcome. Connectivity includes triband HSPA+ (as per AT&T's 4G branding) and quadband GSM/EDGE, along with WiFi b/g/n with support for both 2.4GHz and 5GHz bands, Bluetooth 2.1+EDR and the microUSB/HDMI ports. GPS, a digital compass and an accelerometer round things out.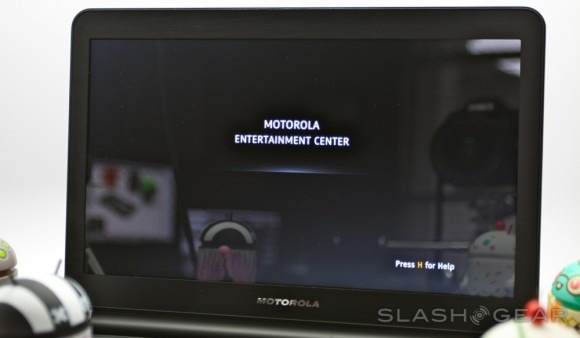 It all adds up to one of the fastest Android handsets we've used to-date, blazing through webpage rendering and pinch-zooming, loading apps with barely any delay, sending Google Maps whipping across the screen and helping squeeze out some of the frustrating pauses that still leave some Android users looking enviously at the iPhone 4.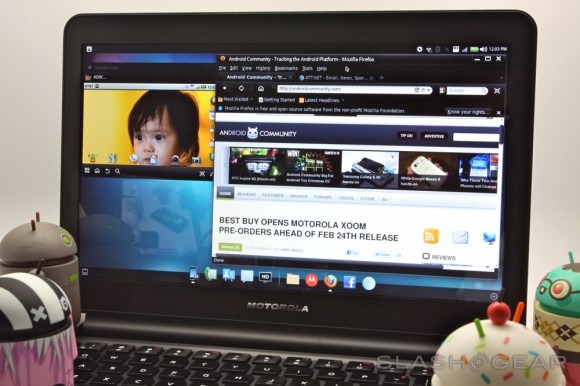 Motorola offers both the Laptop Dock and the HD Dock, along with a Bluetooth keyboard and mouse set, which we'll cover later on in the review.
Software
Motorola's choice of Android 2.2 Froyo is the first disappointment of the ATRIX 4G's software experience, leaving Google's Nexus S as the only Gingerbread smartphone currently on the market. On top, there's the latest iteration of MOTOBLUR, less intrusive than in its early generations, but still an acquired taste (and a potential cause of delay to future Android OS updates) with its social networking integration, modified UI and resizable homescreen widgets.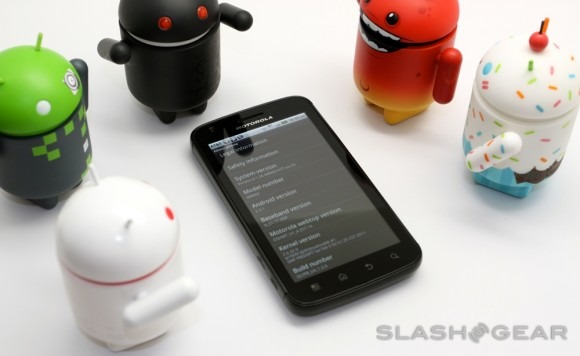 AT&T introduces its own modifications and software, including the same limitation on sideloading apps (i.e. installing them from a direct download or memory card, rather than from the official Android Market) that we've seen on other Android handsets from the carrier. There are workarounds online, which can address that, and it does introduce a degree of protection from potentially malware-infected apps, but the sort of power users, which will be drawn to the ATRIX 4G, might not really need the carrier's over-protection.
As for AT&T software, there's the carrier's Code Scanner, Family Map, Navigator, YP Mobile and My AT&T apps already installed, along with Motorola-bundled copies of Quick Office 3.0, Vlingo Voice, Blockbuster, Need for Speed and MobiTV. That's on top of the usual suite of Google apps (Gmail in particular looks brilliant on the qHD display, with the Tegra 2 CPU slicing through any inbox delays we've encountered on other Android devices). Some apps can be deleted while others are fixed, though of course a custom ROM would take care of that (and the horsepower of the ATRIX 4G is already drawing plenty of attention from the homebrew Android community) if Motorola hadn't locked that down as well. Of course, modders have already addressed that with an (unreleased) rooting method, but it's another degree of frustration that belies Android's generally open, mod-friendly nature.
The useful additions we've come to expect from smartphones, like a mobile hotspot app, are present and work fine, with the ATRIX 4G able to share its HSPA+ connection with up to five WiFi-enabled clients. There's also DLNA support, for wirelessly streaming content to a compatible display or audio player, though Motorola really expects users to use its HDMI output or HD Dock.
Camera and Multimedia
We've criticized Motorola's cameras in the past, and the ATRIX 4G is another middle-of-the-road effort from the company. At 5-megapixels – with autofocus and a dual-LED flash that doubles as a video light – it's not the highest resolution on a recent smartphone, though there's undoubtedly more to mobile photography than sheer pixel count.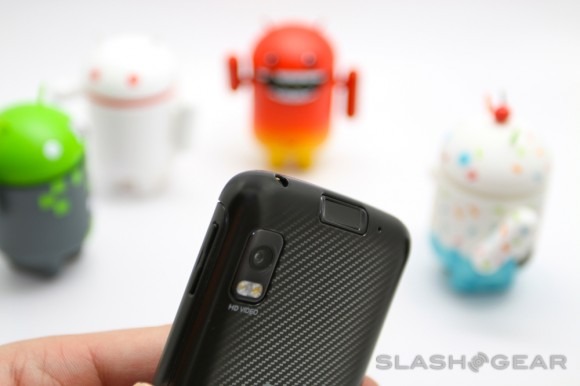 Still images are clean but uninspiring, with reasonable contrast and sharpness outdoors but a little too much noise for our liking indoors. We've had better luck from recent Samsungs. Color balance could be more accurate, too, though at least the camera boots quickly – even without a dedicated hardware button – and the ATRIX 4G processes and saves shots with the minimum of delay.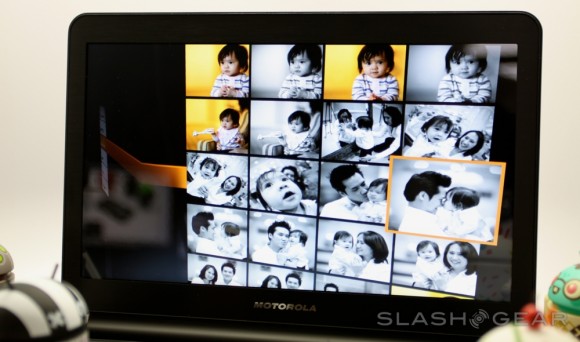 Video, meanwhile, is currently limited to 720p HD, rather than the 1080p HD the Tegra 2 is capable of. That will apparently be unlocked – for recording and playback – in a later firmware update, though Motorola is yet to commit to an exact release date. As it stands, though, video is more successful than stills in many cases, with plenty of detail, swift responsiveness to changes in lighting, and smooth recording despite the lack of any optical stability systems.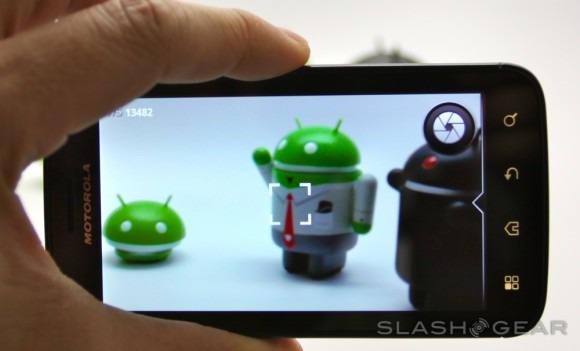 The qHD display is obviously great for showing off photos and video, but since the ATRIX 4G packs an HDMI output it's also easy to hook up a nearby HDTV for direct playback. Plugged in – with the bundled mini HDMI to HDMI cable – the smartphone boots into a dedicated Entertainment Center interface, with a big-screen friendly UI for photos, video and audio playback. The ATRIX 4G itself shows a remote control for navigating, and the phone supports AAC, H.264, MP3, MPEG-4, WMA9, eAAC+, AMR NB and AAC+ formats with video playback at up to 30fps. With the 1080p update this will be even more useful, but 720p looked good nonetheless.
Phone and Battery
Motorola's noise reduction system is in evidence on the ATRIX 4G, and it helps the Android smartphone put in a solid showing when it comes to voice call quality. Audio on both ends of the call is clear and crisp, and the speakerphone is suitably loud.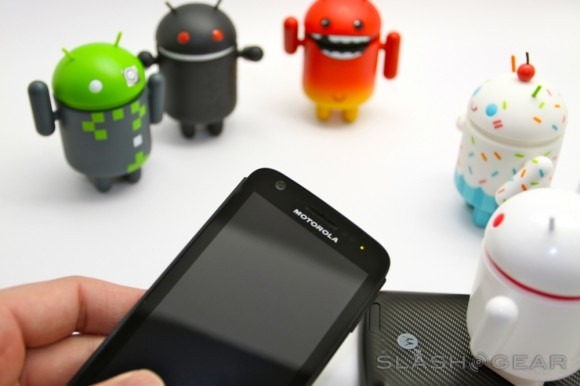 Data, unfortunately, hasn't faired so well. The Motorola may promise 4G speeds, but performance felt more in line with regular 3G devices than other HSPA+ handsets we've used. We tested the ATRIX 4G in multiple locations (with HSPA+ coverage indicated) and saw on average download speeds of 1.3 Mbps to 1.6 Mbps, while upload speeds proved ponderous at between 0.12 Mbps and 0.2 Mbps. It's unclear at this stage whether this is entirely the ATRIX 4G's fault, the fledgling AT&T HSPA+ network, or – most likely, perhaps – a combination of the two, but the end result is that rival 4G networks deliver better raw performance if data speeds are your primary concern.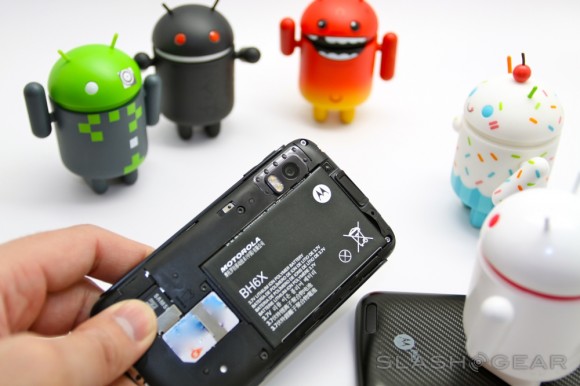 The 1,930 mAh battery Motorola supply is a considerable step up from the sort of power packs we've seen on other high-end devices of late, and the company expects it to push the ATRIX 4G on to up to 540 minutes of talktime or up to 400 hours of standby. In practice, with push-email turned on and the usual mixture of daily use – Google Maps, Internet browsing, some music and video playback – we've seen well over 13 hours of runtime from the ATRIX 4G. Yes, you'll be charging it nightly, but that's par for the course for a modern smartphone.
Laptop Dock
A fair amount of the excitement around the ATRIX 4G isn't so much the handset itself, but the accessories Motorola is offering. Flagship of these is the Motorola Laptop Dock, an 11.6-inch ultraportable notebook-style clamshell with a full keyboard, trackpad and integrated battery. Alone it has no intelligence; instead, you have to dock the ATRIX 4G into a flip-up cradle at the back, upon which the Laptop Dock boots into Motorola's Webtop system.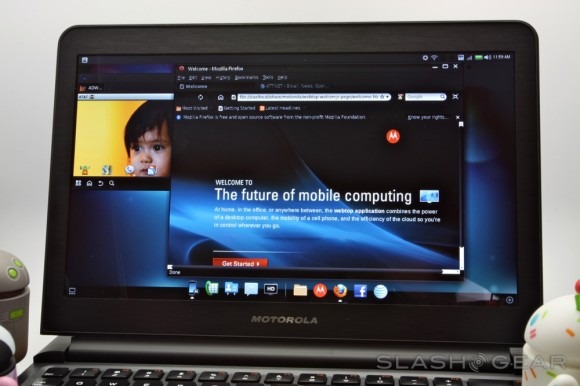 The Laptop Dock hardware is certainly solid, made of brushed black metal and plastic, and with strongly-sprung keys. Despite the broad width they keys themselves are a little smaller than what we're used to from, say, the MacBook Air, and general feel is slightly less impressive than a regular notebook. The trackpad is large – though the button bar is far too stiff for our liking – but the absence of multitouch support for two-finger scrolling and other gestures is frustrating.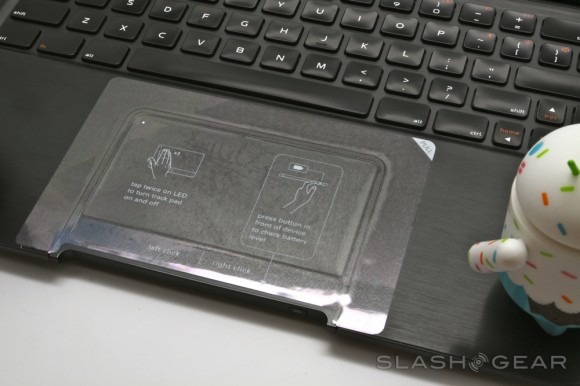 As for the display, that's a 1366 x 768 panel and is bright and reasonably clear. The Webtop system is a custom Linux build, with an OS X style dock of apps – including a full version of Firefox – along the bottom of the screen and a windowed version of the ATRIX 4G's display floating on the left.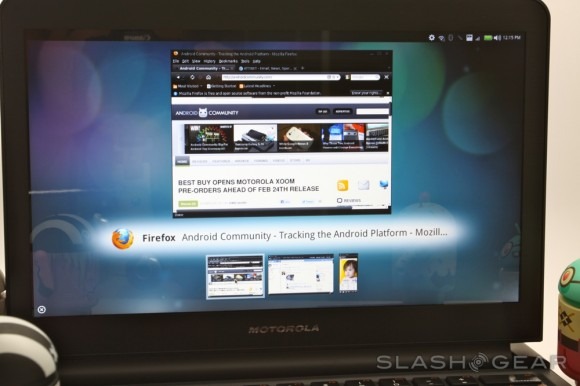 You can boot into the Entertainment Center – more of which in the HD Dock section – or, more likely, the browser (there are shortcuts for AT&T, Facebook and Motorola, but they simply open the relevant pages in Firefox), and both the phone view and browser view can be maximized to full-screen (though the phone image is merely magnified, not upscaled, so gets relatively pixelated in the process).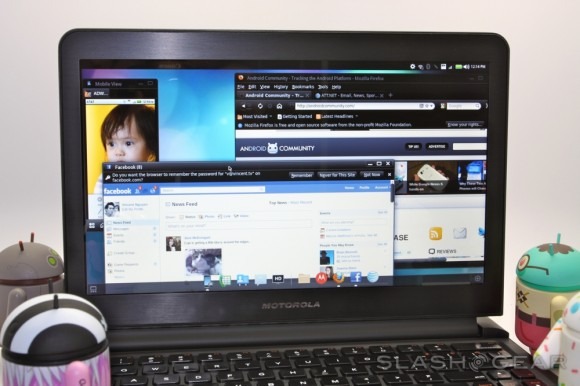 Motorola is particularly proud of the full build of Firefox installed, though the actual user experience is a mixed bag. You can certainly load up Google Docs, stream content, view YouTube and Hulu, and other full webpages in various tabs, but the Tegra 2 processor falls short of the slick experience we'd hoped for. There's noticeable sluggishness, whether you're opening Firefox, flicking between tabs, playing Full HD content or even just working with Google Docs documents.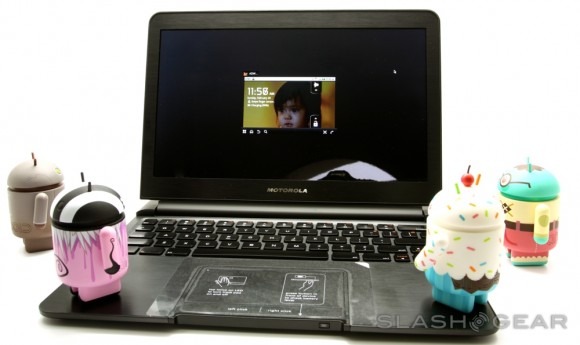 Still, you can handle calls and messages while the ATRIX 4G is docked, and the integrated battery – which Motorola reckons will keep the Laptop Dock running for up to 6 hours of video playback or 8-10 hours of web browsing – recharges the smartphone as you work. Hopefully some further software optimization will give Webtop a speed boost in the coming months, since right now it's an expensive and limited alternative to a netbook.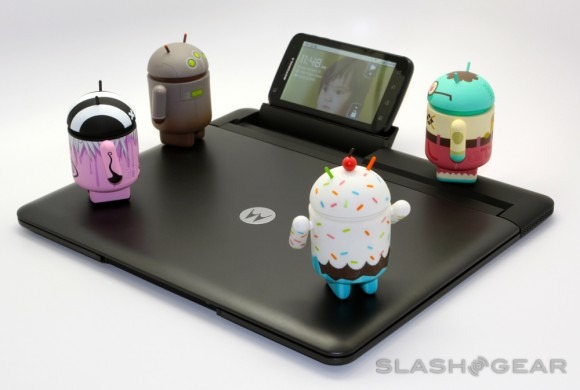 HD Dock
Motorola's desktop dock is a halfway house of sorts between the Laptop Dock and the basic HDMI connection the ATRIX 4G itself offers, including not only an HDMI output but three USB ports for hooking up peripherals and a 3.5mm stereo audio output. They could include a wired keyboard and mouse, though Motorola also sent us its Bluetooth keyboard/mouse set.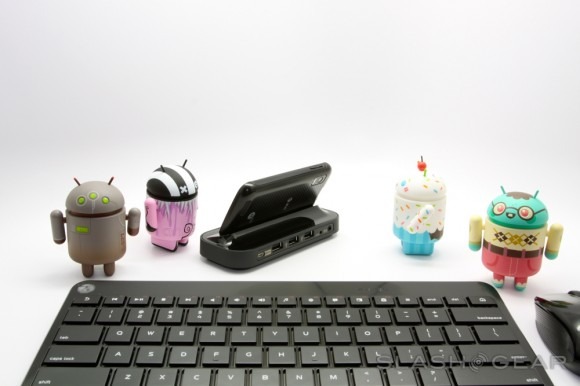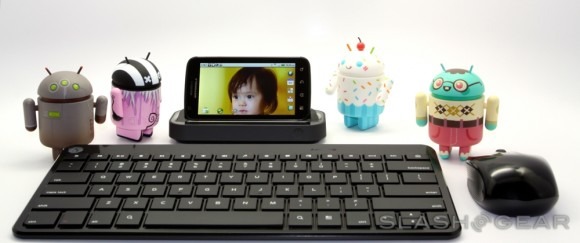 What you do get over and above using the onboard HDMI, however, is access to the Webtop UI, turning your ATRIX 4G and HDTV into a desktop PC. The Entertainment Center UI can be controlled by the bundled infrared remote, which is a physical version of the on-screen controller shown when you use a direct HDMI connection.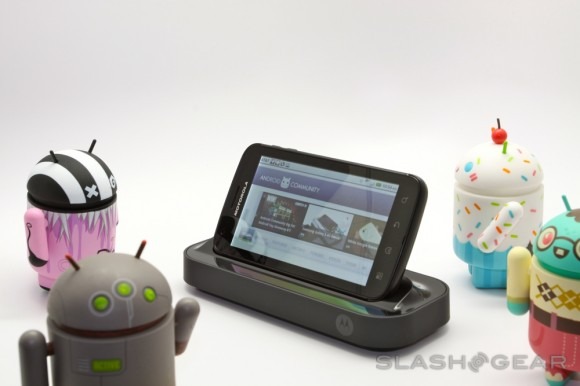 The Bluetooth keyboard and mouse work as you'd expect, pairing with the ATRIX 4G and allowing for easy navigation and text entry. The keyboard has several Android app shortcut buttons, and the chiclet keys are easier to use than the Laptop Dock's keys.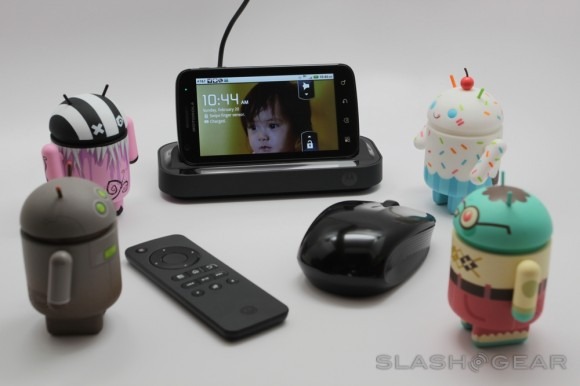 Price and Value
The Motorola ATRIX 4G is priced in line with most other high-end smartphones, at $199.99 with a new, two-year AT&T agreement. Both voice and data plans are mandatory, but if you want to use the tethering feature then you'll need to step up to the most expensive data package (the cheaper plans only offer on-device data) at $45 per month. With the cheapest voice plan that means you're looking at a minimum of $84.99 per month.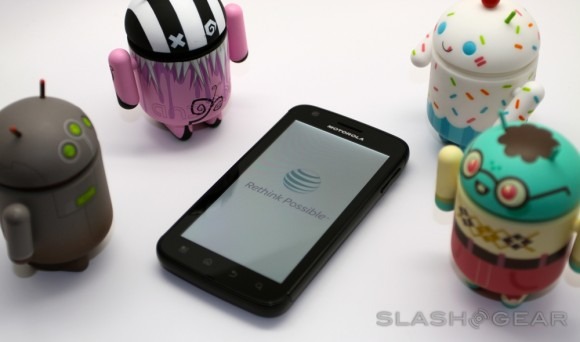 Where it gets really expensive is when you take into account the accessories. The Motorola HD Dock is $129.99, while the Bluetooth keyboard alone is $69.99; AT&T will sell you an "Entertainment Center/Webtop Access Kit" including both, plus the Bluetooth mouse, for $189.99. As for the Laptop Dock, that's $299.99 after $200 of rebates (mail-in and instant), though you'll need to have the tethering data plan to qualify. Alone, the Laptop Dock is a hefty $499.99, which might not get you a MacBook Air but does cover quite a few netbook and notebook options (all of which are functional without a phone docked into them).
Wrap-Up
If there's one thing the Motorola ATRIX 4G shows, it's that there's no shortage of innovation in the smartphone market. The Laptop Dock may be expensive – and Palm may have previewed the idea with the Folio, and Redfly even attempted to commercialize it with the Celio – but Motorola deserves some kudos for bringing it to market and to a major carrier. There's certainly no shortage of geek appeal, and the HD Desktop Dock is similarly useful, but right now the Webtop interface falls short of what a simple, WiFi-tethered netbook would deliver. The HD Desktop Dock is good, but its core abilities are readily served with a far cheaper HDMI cable. Early adopters can probably justify one or both, but mainstream users will likely want to wait for Motorola's engineers to finesse the experience.
Mediocre 4G data speeds aside, meanwhile, the ATRIX itself is a solid, very usable smartphone lifted from among the Android crowds by its lightning fast performance and pixel-rich display. The combination of Tegra 2 and qHD resolution add up to one of the best Android experiences to-date. Rivals will soon begin snapping at the ATRIX 4G's heels, but in terms of as much future-proofing as you can lock-in over the course of a two-year agreement, today the Motorola offers the best starting point.
ATRIX 4G unboxing and hands-on
[vms 0b520d281c122d149065]