Moto Tab marks a return to a stagnating market
We may receive a commission on purchases made from links.
Quick, when was the last time you heard of a Motorola tablet? If you've been around the industry long enough, you might vaguely remember the Motorola XOOM 2, which launched way back in 2011. A lot has happened to the company since then, including changing owners twice. Now that it's under new management, it seems that ol' Moto is adopting Lenovo's business model of introducing a dozen and one devices per year. That seems to now apply even to tables, with Motorola's first new tablet in 6 years, the plainly named Moto Tab.
The Moto Tab isn't going to wow anyone and is, to be frank, indicative of the drought in Android tablet land these past years. At least the 10.1-inch screen has a Full HD resolution, which is appropriate given how the company is selling it as an entertainment device. However, it runs on a Qualcomm Snapdragon 625, with only 2 GB of RAM and 32 GB of expandable storage. This isn't going to do well for heavy-duty binging.
If the specs, not to mention the straightforward name, reminds you of Lenovo's own tablets, you wouldn't be too far from the mark. To some extent, the Moto Tab feels like an extension of Lenovo's Tab 4 10 line, a little below the Tab 10 Plus. That is reinforced by the fact that the Moto Tab is compatible with Lenovo tablet accessories, including the recently announced Lenovo Home Assistant Pack that turns Lenovo's, and now Moto's, tablets into makeshift Amazon Echoes.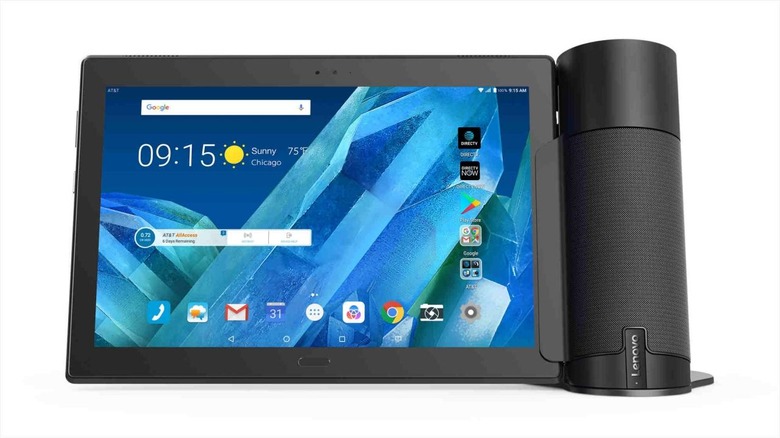 On its own, though, Motorola says that the Moto Tab is "made to entertain", especially with its dual Dolby Atmos speakers. It main highlight, however, is the "TV Mode" that gives quick access to TV shows, movies, and other multimedia content with a single swipe or tap.
The Moto Tab goes on sale this Friday, but you'll have to be on AT&T if you want to get your hands on it. It won't cost much, as can be expected, selling for $299.99 without a contract or $15 a month for 20 months on AT&T's Installment plan.
SOURCE: Lenovo