Moto G 3rd gen makes a surprise appearance online
Motorola's little powerhouse budget smartphone, the Moto G (which lies somewhere in the space below the Moto X but above the Moto E) has seen ample success both in its first and second generation iterations. The third-generation of the Moto G is expected but thus far unannounced — that hasn't stopped it from cropping up on a retailer's website, however, a trend with the product that's starting to become a pattern. The 3rd generation Moto G recently appeared (somewhat) on the retailer website Flipkart, where a few details were included.
So, before you get your hopes too high, an image of the handset wasn't included in the listing. That's not too big of a deal, however, given that the odds are high it'll look very similar to the first (and second) versions. The listing does mention a "white" color, though.

The phone was listed as a "Moto G (3rd Gen)) with a white color and 8GB of internal storage. It was listed as having the model number AP3560AD1K8. Unfortunately the page is no longer up, though some screenshots of the listing (above and below) were grabbed before it was pulled.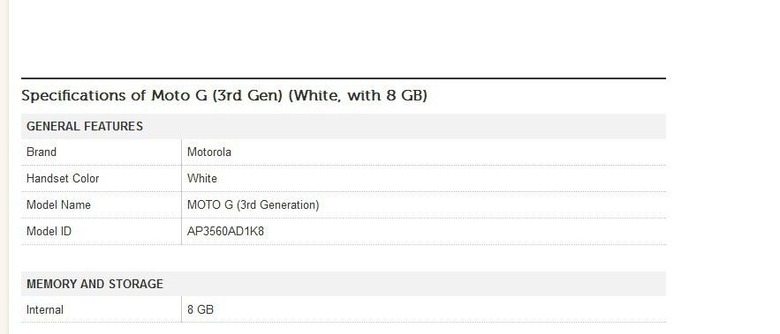 Rumor has it the smartphone will feature a 5-inch or 5.2-inch Full HD display alongside a Snapdragon 610 1.7GHz process, 2GB of RAM, and 4G LTE. That's not official, mind you, but past rumor has pegged the smartphone as such. Given that it has cropped up on a retailer's website, the odds are high we'll be seeing the handset officially very soon.
SOURCE: Gadget Raid