Motion Computing updates C5 and F5 rugged tablet PCs with Gorilla Glass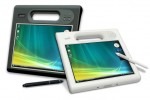 Rugged computers are usually boxy devices that have strong cases that surround the sensitive components like the CPU, HDD, and the LCD. Motion computing has announced new tablet computers called the Motion C5 and F5 that are rugged and feature Corning Gorilla Glass.
The C5, a machine aimed at use in medical offices, and the F5 tablet both use the thin-sheet glass designed to protect against things that typically cause display damage like drops and bumps. The C5 and F5 machines are both rated to IP-54 and MIL-STD-810F and are rugged yet lightweight.
Gorilla Glass is an environmentally friendly alkali-aluminosilicate thing-sheet glass that is designed specifically to functions a glass cover for portable displays. The glass is damage and scratch resistant and protects pen-input devices from the elements. The C5 and F5 tablets with the Gorilla Glass are available now. Other specifications of the C5 and F5 are the same as we have covered before.