Most Flagged Facebook Photos Aren't Inappropriate Says Facebook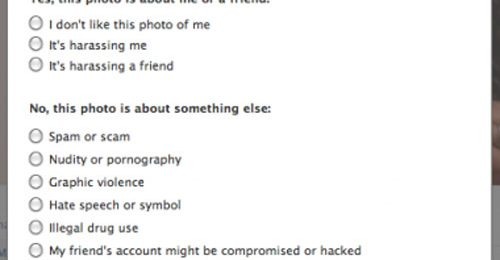 I can only imagine the number of pictures on Facebook that are flagged as inappropriate each day. Facebook is now offering up a bit of detail on all those flagged photos. As it, turns out most of the photos that users flag aren't inappropriate, rather the majority of the pics are just of unflattering angles or situations.
That means that the bulk of the photos users want Facebook to remove simply don't make them look good, talk about vain. Facebook notes that users upload an average of 250 million photos each day. The intention of the reporting feature is to allow the users to report photos with violence and nudity since Facebook alone can't patrol that many images.
Facebook will pull photos with nudity or violence, but won't take down a photo just because the person in the photo doesn't like it. This highlights the fact that just because a picture posted is of you, you don't necessarily own the rights. Do you think people in the photos posted by others should have the right to force Facebook to remove them?
[via AllThingsD]