Morgan Stanley predicts Apple will sell 40 million iPhones in China by 2013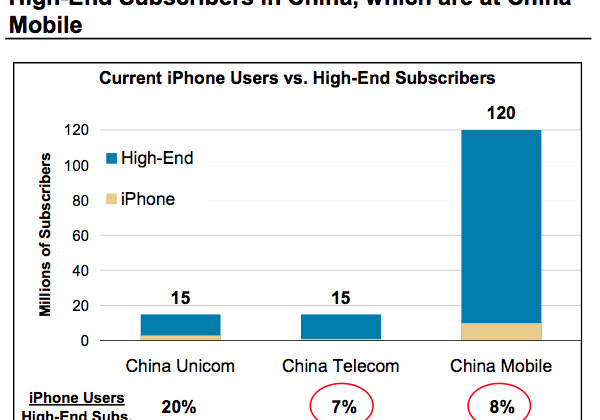 Apple has admitted that it had planned poorly for the launch of the iPhone 4S in China. Apple launched the iPhone 4S in China and didn't have enough stock leaving many who waited in line without the device, which led to near riots with eggs thrown at windows, and employees smacked around. Despite the initial issues with the iPhone in China, Apple is predicted to sell a huge number of devices by 2013. In fact, analysts predict that Apple could add as much as $10 per share in revenue from China alone.
Investment bank Morgan Stanley is predicting that Apple will partner with both China Telecom and China Mobile over the next year, which will give it availability for the iPhone on all three of the Chinese carriers. The wide availability is expected to allow Apple to sell as many as 40 million iPhones in 2013. As it stands now analysts are saying that Apple can only reach about 10% of the 150 million high-end Chinese subscribers in the country because it is currently only partnered with China Unicom.
According to analyst Katy Huberty, if Apple can move 40 million units inside China; sales in China alone will be good for $10 per share increase in earnings for Apple. The key factor this is that the sixth-generation iPhone is expected to be compatible with China Mobile's upcoming 4G TD-LTE network. However, it's far too early to assume this will be correct. The analysts at Morgan Stanley are predicting that the next iPhone will arrive in Q3 of 2012 with the launch on China Mobile expected to happen in late 2012 or early 2013.
[via AppleInsider]